Malika Thompson '18
04/05/17
From Bluffton to Barcelona, junior spends the semester in Spain
Malika Thompson '18, a Spanish major from Cincinnati, Ohio, is spending the spring semester in Barcelona, Spain. During her cross-cultural experience she is immersing herself in the culture, expanding her knowledge of the Spanish language and discovering more about herself in the process.
"I've just been learning so much about life," said Thompson. "I'm learning about the things I do and don't want to do, and I've been learning through my mistakes."
At Bluffton, Spanish majors are required to travel to a Spanish-speaking country for their cross-cultural experience, an immersive program that looks to educate students about cultural diversity while expanding their worldviews.
"It was uncharted territory," said Thompson when discussing why she chose Barcelona. "I had thought about going and found that not a lot of people have chosen Barcelona for their semester trip."
So far this semester, Thompson has participated in hip-hop dance classes, tried boxing classes on the beach, joined a language exchange program with students who speak English and Catalan – the language specific to the Catalonia region – and walked the Montjuïc mountain trails that overlook Barcelona.
Being part of the language exchange program has brought about new friends and new cultural appreciation. "Meeting people my age that want to communicate, converse, do different things and learn about other cultures has been nice," Thompson said. She has enjoyed getting to hear about their lives and getting to share her stories as well.
Thompson sees her time in Barcelona as a way to practice the Spanish language while also providing her the opportunity to explore European culture. "There are a lot of fun, free things to do, and if you meet the right people you find some really genuine people," she said.
Looking to the future, she hopes to extend that feeling of belonging to others in her vocation.
"I figure having the ability to speak Spanish will allow me to able to communicate with people and help other people who also speak Spanish, and hopefully other languages, who would like to obtain citizenship into the U.S.," Thompson said, as she looks to tackle injustices surrounding immigration.
As her semester comes to a close, she has found a new appreciation for her time outside of the United States. "I would definitely recommend students, if they can, to study abroad for a semester. It's a great opportunity," said Thompson. Her time in Barcelona has allowed her to learn about herself on a deeper level and move beyond her comfort zone to experience new cultures.
-B-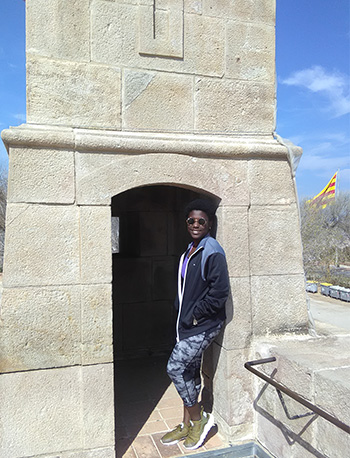 Malika Thompson '18
---
"I would definitely recommend students, if they can, to study abroad for a semester. It's a great opportunity."