"Bridge" Literary Journal
04/19/17
Students finalize first edition of "Bridge: The Bluffton University Literary Journal"
Stories, prose and poems from 20 young writers are featured in the first edition of "Bridge: The Bluffton University Literary Journal." The journal is the latest project from the Bluffton University English department after a year of dedicated work by students, faculty and staff.
"I hope 'Bridge' will excite new voices to pursue their dreams in writing," said Becky Boban '19, an Art and Writing major from Madison, Ohio, who sees the magazine as a stepping stone for young writers.
A team of ten students served as editorial associates. They read, accepted and edited submissions along with creating layouts for proofreading and printing. Jamie Lyn Smith, assistant professor of English, spearheaded the publication during the 2016-17 academic year.
"The best part about being a part of 'Bridge' has been watching the stories you've supported shine," said Cameron Miller '20, an English major from Grabill, Ind. "Getting to tell an author that their piece was being published was really awesome!"
"Bridge" submissions are solicited nationally; while "Shalith," Bluffton's on-campus literary magazine, focuses exclusively on work by students for students. However, Smith found it key to represent the work of Bluffton students in "Bridge," leaving space for what she coined "The Best of Bluffton."
"There are a lot of literary magazines that publish young writers, but there are very few that focus specifically on adolescent and young adult writers across the age span that "Bridge" covers; we accept work from writers age 14-24," said Smith.
"Bridge's" first edition received submissions from 14 states. A wide reach for the first edition but one the "Bridge" team would like to see increase.
"It would be awesome to see an influx of work from people of as many different backgrounds, personalities and life experiences as possible," said RaeLee Hightower '18 an English and writing major from Tulsa, Okla.
Many students working on "Bridge" found the experience useful to their future vocations as they experienced the process unfold.
Amber Edwards '18, an adolescent/young adult English education major from Covington, Ohio, saw "Bridge" as way to expand skills she can use later in her career. "I gained a lot of experience with reading peoples' work and being able to talk about it in a professional way. I was able to give feedback to the writers, giving me good practice for my future in teaching."
-B-

To obtain a copy of Bridge: The Bluffton University Literary Journal, send a request and $8 for shipping and handling to: Jamie Lyn Smith
Bluffton University
1 University Drive
Bluffton OH 45817-2104
Cara Echols '19 public relations feature writer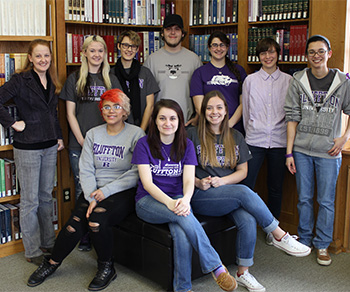 The 2016-17 "Bridge" Editorial Staff
---
"There are a lot of literary magazines that publish young writers, but there are very few that focus specifically on adolescent and young adult writers across the age span that "Bridge" covers; we accept work from writers age 14-24."