Becky Boban '19
04/26/17
Her future is "Built on the Breeze"
Becky Boban '19, an art and writing major from Madison, Ohio, recently received a unique honor with her poem "Built on the Breeze." The poem was accepted for publication by "The Merrimack Review," a literary magazine showcasing work from undergraduate and graduate students, with a rapid and rare turnaround time.
Despite the accolade, Boban remains humble about her work. "It's just one poem, but it's a start. Maybe someone will look at it and be like 'oh, that was a nice poem.'"
Literary magazines typically take several weeks or even months to contact submitters; however, Boban's work sparked interest with the editorial staff within a few days.
Boban decided to submit her work understanding that it could further her writing career. "I realized that I had to get my work out there," said Boban.
Boban is a member of the editorial staff for "Bridge: The Bluffton University Literary Journal." She read submissions, provided feedback and accepted work by other young authors (ages 14-24) for the first edition which was published in April.
"I wish I had more opportunities when I was younger to submit work," said Boban. "I really like "Bridge" because of the promotion for high school students' work."
Boban started writing when she was young, but began to develop a deeper understanding of poetry in middle school. "Our teacher asked us to write a haiku, and she told us it was all about nature and images," she said.
Initially she wrote what she called "cruddy poems" that later changed to "half-cruddy poems" which eventually developed into a more refined free-verse style. Now, she uses imagery to enhance poetry through metaphor. Boban explained that "sorrow like a willow tree may be different from sorrow like a desert."
As Boban waits to hear back from her other submissions, she will be studying in China for her cross-cultural experience.
She never anticipated going to China, but it was something she felt led by God to do. "I think it kind of came down to the fact that I trust God and faith and that's why I'm at Bluffton. I'm scared but I'm excited, and I think that getting out there I'll realize that God really is everywhere, and he's in all people," said Boban.
During her time in China, Boban hopes to explore art and writing through the lens of a different culture.
As Boban explores new cultures and continues to develop her own writing career, she realizes that time, patience and faith are all important factors within her life and work.
Boban understands it takes time and dedication to be a poet, but she has faith in the process.
"At first it's like your name as a poet doesn't mean anything," explained Boban. "You just have to build up your reputation. If this is my purpose, God's going to take care of me."
-B-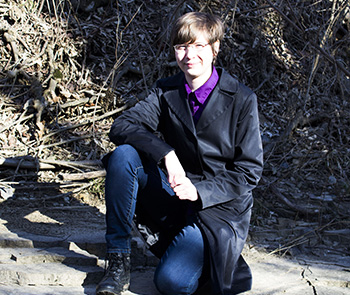 "At first it's like your name as a poet doesn't mean anything. You just have to build up your reputation. If this is my purpose, God's going to take care of me."