Break a leg
04/03/2019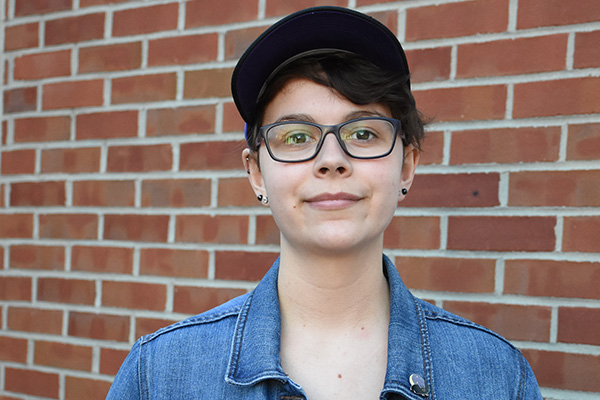 music major to pursue graduate studies at NYU
Meghan Gibson '19, a music major with a concentration in performance studies, will pursue a Master of Music following her May graduation from Bluffton at NYU Steinhardt. Gibson, a Pandora, Ohio, native will focus on music theatre performance.
"If you're going to do musical theater, and most music in general, you want to go where the business is," explained Gibson. "So for the business of musical theatre, that's Broadway or the other option would be Chicago. But New York is where it's at."
For Gibson, musical theatre has been a passion since she was eight, performing in Annie for her first show. She continued to pursue theatre in high school and college and had lead roles in Bluffton's productions of "[title of show]," "Sondheim on Sondheim," and "Curtains." She will also be in this year's production of "Guys and Dolls."
Through their music theatre performance program, Gibson hopes to gain a more "comprehensive understanding of the musical theatre business and how performing musical theatre works."
Steinhardt's School of Culture, Education and Human Development is one of NYU's many secondary campuses offering programs in the fields of psychology, art, education, heath, media and music. The application process was similar to any other college application, requiring a personal essay, an academic resume and recommendation letters. However, Gibson also submitted pre-screening videos of her singing and performing a monologue.
"They liked me through the pre-screening, so I was invited for an in-person audition," said Gibson. During the call back she sang a variety of songs in contrasting styles and performed another monologue.
She compared the atmosphere of the NYU campus to that of Bluffton's. "It was a very open environment and actually reminded me a lot of Bluffton with our close-knit community."
During her time at Bluffton, Gibson has taken great advantage of the strong faculty-student community. Dr. Crystal Sellers Battle, associate professor of music and music department chair, has been an instrumental part of Gibson's college journey, along with many other Bluffton music department faculty.
"When I was looking for colleges, I knew that I didn't want to go to a larger school right away, said Gibson. "Bluffton was someplace close to home, and I trusted the music faculty here. I still do," she said. "That's why I chose to come to Bluffton. And that was a really great decision because I got to work with Crystal."
Though Gibson is open to working anywhere from high school music classrooms to personally performing on stage, she hopes to allow others to experience the music community in more dynamic ways.
"Eventually it would be great if I could start a foundation to allow low-income schools to bring in performers from larger cities so kids can have that experience and create those connections they would otherwise not be able to."
Cara Echols '19, Student news writer