Spring break service
03/29/2022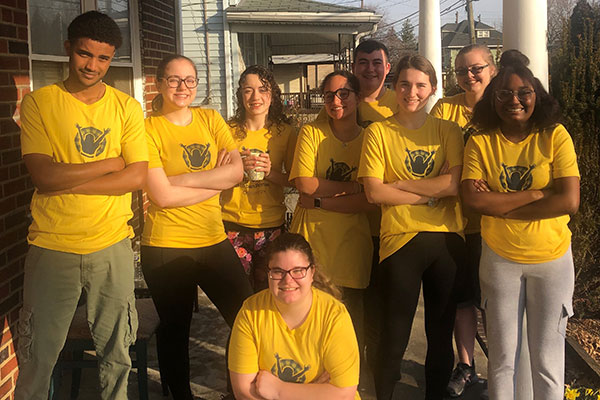 Manual labor and Mentoring kids
During spring break, nine Bluffton University students traveled to Camden, N.J. to serve at Urban Promise and with community churches. The March 6-11 service experience was organized by Bluffton's SERVE organization, and students worked on a number of projects each day.
"I've completed day-long service projects or volunteered for a morning or afternoon," said Deborah Yoder '23, an English major. "But this was the longest trip I have been on, and it shifted my perspective on service work."
The students spent their mornings cleaning up litter and converting an underutilized kitchen into a coffee shop for Urban Promise students. By the afternoon, they worked with Urban Promise's staff by interacting with and mentoring children.
Urban Promise is a worldwide organization which seeks to equip children and young adults with the skills necessary for academic achievement, life management, spiritual growth and Christian leadership.
"Coming from Cleveland myself, I know what it's like to live in an urban community. It's not always easy, and there are many struggles and difficult times," said Kennedy Weaver '25, a business administration major. "This experience showed me that there is beauty in everything, no matter what it looks like or what people think of your city. There is beauty in its community. It showed me that Camden kids want to create a new narrative for themselves and their community."
Bluffton students, along with SERVE trip advisor Holly Metzger, director of student engagement, collaborated with staff members and fellow student leaders to complete projects. Most of the staff working at Urban Promise grew up in Camden, went to college and returned to give back to the next generation of kids in Camden.
"The shared dialogue between the Bluffton students and the students of Urban Promise allowed for both groups to learn and gain a perspective that they might not otherwise have had," said Metzger.
Ally Heldman '23, a convergent media major, enjoyed "being with the kids and building relationships with them."
Heldman gained valuable connections through the spring break experience.
"This trip did so much for me personally," she said. "It made me think about serving with Urban Promises after I graduate."
While much of the time was dedicated to service, Bluffton students also enjoyed leisure activities during their free time. The group traveled to downtown Philadelphia to explore, enjoy authentic Philly cheesesteak and take in the history of the city.
"I'm so proud of how hard our students worked and how well they represented Bluffton University while on the trip," said Metzger.
With service as one of Bluffton's core values, experiences like this allow students to give back while encompassing not only service, but all of Bluffton's core values. The students were able to discover a new inner city setting, build community and relationships with all those they worked alongside of and respect what staff and leaders do for their community, despite the challenges that may come.