Spring break service
03/20/2019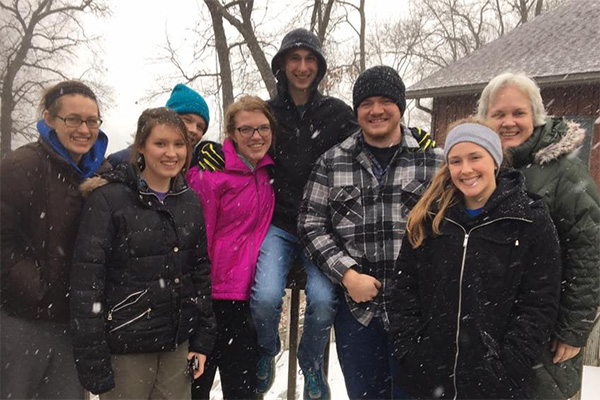 Students SERVE at Mennonite camps
Over spring break, six Bluffton students fixed chairs, split and stacked firewood, removed drywall, repaired flood damage and much more through a service experience with Bluffton's SERVE organization.
The students spent March 2-8 at Amigo Centre and Camp Friedenswald, retreat destinations in southern Michigan. The opportunity provided opportunities for physical work, spiritual growth and community bonding.
"This trip was not just a time of service, but a time of mental and spiritual rejuvenation for our group," said Hannah Brown, '19, a nutrition and dietetics major and co-president of SERVE from Willard, Ohio. "With limited cellphone service, we had the opportunity to really be present in the work we were doing, as well as have meaningful conversations with the people we worked with."
The Bluffton students, along with trip adviser and vice president for student life, Julie DeGraw, collaborated with camp staff and other volunteers to complete the projects. Each saw it as a learning experience to better their own self through helping others.
"SERVE gives students an opportunity to do something bigger than themselves and gives them an opportunity to get away from school work for a short time, said Emily Rush '19, an English education major and co-president of SERVE from Quakertown, Pa.
Michael Short '21, an information technology major from Archbold, has "always had a passion to help others and for volunteer work."
By lending a willing and helping hand, he gained valuable connections through the spring break experience. "You get to network with new and successful people while eating good food, spending time in nature with God and making connections with peers you might not know very well. It really is a rewarding experience," he said.
While much of the time was dedicated to service, students also had time for leisure activities including bowling, snow tubing at Camp Friedenswald, playing card games, watching movies and sharing devotionals.
"While I didn't do all the assignments I had planned over break, I still felt extremely accomplished because I could actually see the physical things I had done. When you go on a spring break trip to do service, you can be justified by your lack of doing schoolwork," Rush joked.
With service as one of Bluffton's core values, experiences like this allow students to give back while seeing the "fruits of our labor," explained Brown, who encourages others to pursue service.
"Many of the close relationships I've made in college have started during the volunteer trips we've done through SERVE. Taking part in events like our spring break trip helps you meet so many new people, see so many new places and have fun while doing it."
Cara Echols '19, Student news writer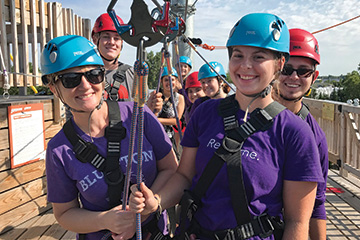 ---
Whatever your interests – from academic pursuits to sports and recreation, from community outreach to student government – Bluffton has more than 60 different co-curricular organizations on campus.