SERVE
03/26/18
Bluffton's SERVE organization gives back over spring break
While many students spend their spring break relaxing with family and friends, students taking part in Bluffton University's SERVE organization spent the week in the Columbus and Cincinnati regions, working with impoverished families, women's shelters and area churches.
"Service is not just about giving up your time or being inconvenienced. It is about seeing the humanity in others and helping to be a part of restoration and growth in the life of their community, home, physical or spiritual life," said Kevin Williams, director of residence life and advisor for the recent SERVE experience.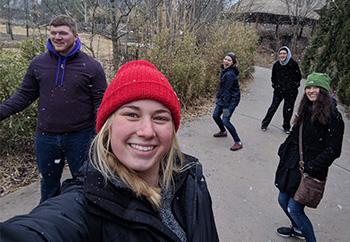 Students worked with local Methodist and Mennonite churches, nursing home residences, food pantries, soup kitchens and homeless shelters, performing a wide range of service projects.
Hannah Brown '19, co-president of SERVE and a nutrition and dietetics major from Willard, Ohio, was one of seven students who participated in the experience.
"When I started volunteering with SERVE, I was apprehensive about the amount of work and time involved," Brown admits. "However, when you're actually taking part and giving back it feels good to be a part of something that really matters."
Working in the homeless shelters was eye-opening for many of the students. Many of the homes severed as detox centers and refuge spots for abused women and their children. Students met and played with children, renovated rooms and received an empowering backstory from the founder of a shelter in Cincinnati.
"The most impactful experience to me were the homeless shelters for women and children, especially Juliette's Hope, which was a shelter for women of abuse," said Kayla McSwords '20, nutrition and dietetics major from Marysville, Ohio. "I really wanted to do something to help that population get back on their feet and prosper."
Brown found the experience and story of Juliette's Hope to be reaffirming to her faith. "It was named after the founder's mother that went through a lot of struggles when she was a teenager and had put her daughter up for adoption, but her mother eventually got to meet her," she explained.
"Serving is an excellent opportunity to impact the world around you in positive ways,"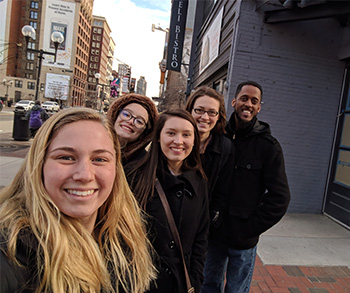 said Williams.
SERVE offers students the opportunity to explore service and give back to the communities and organizations around them beyond the spring break experience. "I have always loved serving and being a part of mission trips and I wasn't ready to give that up after high school," said McSwords in regards to her participation in the campus organization.
In addition to the spring break experience, students complete various service projects throughout the academic year including a weekly opportunity at the Findlay Mission
"It is not about how many you serve it is about meeting a need," said Williams. "I believe Mother Teresa captures this point well when she said, 'If you cannot feed a hundred people, feed just one.'"
-B-
Cara Echols '19, Student News Writer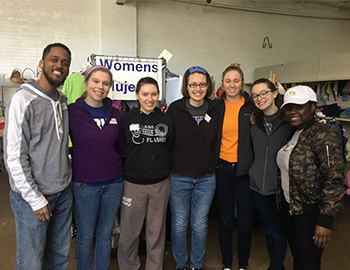 ---
"Service is not just about giving up your time or being inconvenienced. It is about seeing the humanity in others and helping to be a part of restoration and growth in the life of their community, home, physical or spiritual life."