Tessa Short '18
03/15/17
Fourth generation Beaver grows family legacy on campus
In a 1998 edition of the Bluffton alumni magazine, then known as "Scope," an image of a grinning little girl standing confidently in Bluffton apparel can be found. Tessa Short, 18 months at the time of the photo, returned to campus 18 years later to continue a fourth generation legacy.
"I think it's really cool to have so many family members go here," she said. "I think it is a special bond."
Short '18, a business administration and marketing double major from Middlebury, Ind., doesn't remember taking the photo, but she does recall many other fond Bluffton memories passed down through her family and made through her own experiences.
Short's grandparents and parents both met at Bluffton and her great grandmother, Donita (Hartzler '39) Brookmyer, was one of the first women on the board of trustees.
"My dad actually pushed me to look at others schools because he wanted me to make the decision on my own," Short said. But when she finally revealed that she was going to attend Bluffton, her parents were ecstatic.
"My very first childhood memory of being here at Bluffton was at Little Sibs Weekend," said Short, who spent the weekend with her aunt, Tara (Short '02) Meyer. "That visit had such an impact on me that when I came to Bluffton and found out Bluffton didn't host Little Sibs Weekend anymore, I joined the Riley Creek Festival Committee and suggested its return. Three years later, and it's still happening."
On top of her studies and extra-curricular activities, Short is making an impact on campus by working as a Marbeck/Sommer Center assistant. This supervising position, Short explains, offered her "so much responsibility and growth" that has helped her to develop. It is opportunities like these Short said she "wouldn't have gotten at other places."
"I just feel so blessed here," she said. "The professors here are so helpful and there are so many opportunities for growth and exploration."
Along with her family ties and work opportunities, Short said the community drew her to choose Bluffton University as her home away from home. "The professors remember me and remember what my major is and what's going on in my life." The welcoming environment from students on campus also encouraged Short to pick Bluffton.
"It was really cool at my open-house graduation party being able to have little pictures of me in Bluffton outfits," she said. Coming full circle from some of her first Bluffton visits as a young girl, Short cherishes her past experiences on campus as she continues her academic career.
"I would love for the legacy to continue," Short says as she considers the future. However, she believes the best approach is to follow in her father's footsteps.
"I think that I would do it the way that my dad did it and not push my kids to attend Bluffton," Short said. "That's something that I value from my parents – to not push me to continue my education here but to present the opportunity."
-B-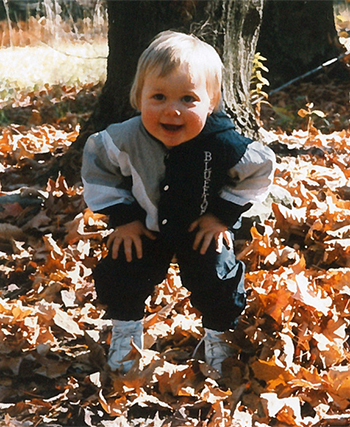 "I just feel so blessed here. The professors here are so helpful and there are so many opportunities for growth and exploration."