Masterworks Soloists
03/29/17
Student talent showcased during Masterworks performance
Five Bluffton University students recently earned the chance to showcase their vocal talent in front of crowd gathered at Yoder Recital Hall for the annual Masterworks concert.
Mary Bender '17, Anna Cammarn '18, Meghan Gibson '19, Kimberly Meyer '17 and Constance Moushon '18, were selected to perform solos during the event. Soloists at the concert are typically professional singers hired for the performance.
The concert featured "Gloria" by Antonio Vivaldi. "Vivaldi's 'Gloria' is a work that offers an opportunity for younger singers to perform with an orchestra. The piece was written for a girl's orphanage, where Vivaldi worked in Venice. The girls at this orphanage were trained as professional musicians. For our Bluffton University students, this was a rare and wonderful occasion to perform with professional string players," said Dr. Mark Suderman, director of choral activates and professor of music. The chorus was comprised of members from the Bluffton University Chorale and the Bluffton Choral Society with an orchestra made up of university students and community members.
"Singing with a live orchestra was a new experience for me and was definitely something I would love to do again," said Bender, a music education major from Harrisonburg, Va. "I really enjoyed being part of a performance where the separate parts worked together to form something larger."
Moushon, a vocal performance major from Eureka, Ill., shared a duet with her roommate and fellow Masterworks performer Cammarn, a music and psychology double major from Akron, Ohio.
"This experience was my first opportunity to solo with orchestral accompaniment, and I was thrilled to have been given the experience," said Moushon.
As well as gaining insight from working with the professional ensemble, students also found great help and growth in working with the music department at Bluffton.
Ana Yoder-Coulter, piano accompanist, and Dr. Crystal Sellers Battle, professor of music, helped prepare the soloists leading up to the performance. "They helped me grasp not only the techniques I needed to succeed, but they encouraged me to learn from each run-through and be better each time," said Gibson, a music education major from Pandora, Ohio.
Each student developed as musical artists. They gained performance insight, and each performer was able to advance in their skills.
"Singing as a soloist has very different difficulties and fun learning opportunities. I think this was a great experience and has helped in my growth as a musician," said Meyer, a music education major from Defiance, Ohio.
Recognizing the rarity of the opportunity, the students explained they were honored to be able to take part in the concert, especially in such a large way.
"I really appreciated that this year the music department let student music majors be featured," said Cammarn. "It shows a great faith in the students and in our growing abilities."
-B-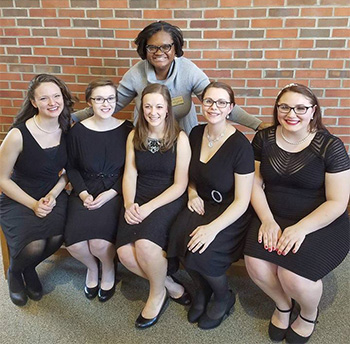 "I really appreciated that this year the music department let student music majors be featured," said Cammarn. "It shows a great faith in the students and in our growing abilities."