Darryl Nester '85
03/09/2016
In anticipation of Pi Day, a paean to pi
Some people love pie. Dr. Darryl Nester has a crush—lyrically, at least—on pi.
And the mathematics professor's "Pi (A Love Song)" is a hit, as a winner in the National Museum of Mathematics' (MoMath's) 2015 song contest.
"I actually wrote part of this song almost 10 years ago, but did not have a full set of lyrics until last year," when "Pi Day," Darryl notes, was particularly special.
Last March, Pi Day was not just any 3/14 but 3/14/15, thus adding the next two digits in pi—the approximate ratio of a circle's circumference to its diameter. "I wanted to have a new song for the occasion, so I pulled out the lyrics I had written before and found a way to complete them," he says.
Making the song a love song was inspired, he says, by a passage in the book, "A History of Pi," by Petr Beckman. Wrote Beckman: "There seems to be something magical about the number pi that fascinates people; I have known several people who memorized pi (in their adolescence) to 12 or even 25 decimal digits; none of them memorized, say, the square root of 2."
"In other words," adds Darryl, "something about pi causes some people to 'fall in love' with it. So I took a love song ("Mandy" by Barry Manilow) and wrote lyrics about having a (hopeless, unrequited) crush on pi."
He premiered his paean to pi during the "Ultimate Pi Day" celebration on campus last March. Then, in August, a note about the song contest arrived in an email from MoMath. "When I read what they were looking for, it struck me that my new 'Pi' song would be a good fit for the contest," he recalls.
And so it was, earning Darryl an invitation to perform it at The Open Set, billed by MoMath as "a night of musical performances" at the New York City museum on Nov. 19. That didn't work with his schedule, but …
"If they continue to hold the contest, I will probably enter again," he says.
-B-
by Claire Clay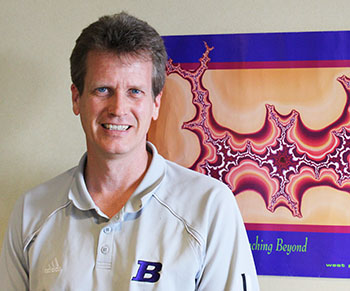 ---
"Something about pi causes some people to 'fall in love' with it. So I took a love song ("Mandy" by Barry Manilow) and wrote lyrics about having a (hopeless, unrequited) crush on pi."