Bourassa Family
03/15/16
Bourassa family grows through adoption


Mark Bourassa, assistant dean of students and director of the university event complex, has welcomed a new addition to his family--a daughter named Andrea-- who was adopted from the Philippines. While many, newly-adoptive parents have concerns over colic and middle-of-the-night bottle feedings, the Bourassas instead are handling teenage angst and helping with homework. That's because their newest addition is 15.
Andrea joins siblings Jonah, 19; Eli, 17 and Elizabeth, 13, who were also adopted from the Philippines, however, as toddlers.
"When you're bringing someone older into a home where you have five established people, there certainly are going to be some changes," said Bourassa. "For her, it's really significant because it's not only a new home, it's a new culture."
Bourassa says the family felt called to adopt from the Philippines for the fourth time after returning from a family trip to the country in the summer of 2014. During the trip, Jonah, Eli and Elizabeth visited the shelters and towns were they came from which included the shelter where Andrea was living. And, as fate would have it, they actually met and spent time with Andrea and several other girls seeking permanent homes. Many of the other girls have also been adopted.
Bourassa says this adoption experience has been completely different than the previous adoptions since Andrea is a teenager. "She has had 15 years of life experience. She remembers everything. My other kids don't remember that first year in the Philippines," said Bourassa. "It takes time to build relationships, but there's almost an expectation that it should be quicker when the kids are older."
Bourassa took seven weeks of paternity leave to adjust to the change and to grow closer as a family.
"It was a really crucial piece in the relationship building process," Bourassa said. "We had structured and unstructured time to get to know each other. It takes time to develop relationships, especially family relationships. We had a lot of excitement and enthusiasm about it."
The transition was made somewhat easier because the Bourassa family was able to contact their soon-to-be daughter and sister via Skype for about four months prior to the adoption.
"We were able to start building relationships earlier in terms of actual interaction, as opposed to sending pictures, letters and things of that nature."
Andrea is attending school with two of her siblings in Bluffton. Her oldest brother is a student at Taylor University in Indiana. She enjoys making crafts and spending time with family.
"It's obvious to us that she's getting much more comfortable," said Bourassa. "She smiles more, she's happy and she's teasing me incessantly. When you get to a point when your kids are teasing you a bit, then it feels okay."
-B-
Colton Steiner '18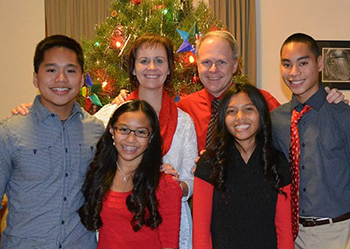 "We had structured and unstructured time to get to know each other. It takes time to develop relationships, especially family relationships. We had a lot of excitement and enthusiasm about it."