Sibling support
03/13/2019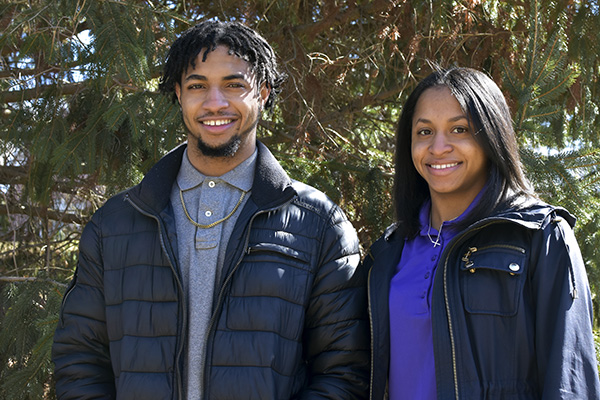 Sharing the track at Bluffton
For siblings Keturah '19 and Omar '21 Warlick of Clinton Township, Mich., speed runs in the genes. The sister and brother duo both compete in the 60 meter dash, the 200 meter, the 4x200 and the 4x400 with Bluffton University's track and field team.
With a love for competition and motivation from family, Keturah was drawn to the sport from an early age.
"I was fast," she joked. "We went to Georgia one summer to visit when we were kids, and we were racing and someone said 'you should put her on the track team.'"
Omar also competes in long jump and is a wide receiver for Bluffton football, but he says there are benefits to training in sprints together.
"I motivate her to do better, and she does the same with me," said Omar, a sport management major.
A food and nutrition major, Keturah discovered Bluffton first and initially didn't want her little brother to follow in her footsteps.
"At first, I didn't want him to come because we had been in middle school and high school together, but it ended up being good," said Keturah. "I think it's really important to have someone you can connect with."
Both were drawn to Bluffton because of its welcoming atmosphere, campus size and the ability to continue their athletic ambitions.
"I came to Bluffton for football and the small campus," explained Omar. "And of course, because my sister came here," he joked. "But honestly that was a really defining factor."
On campus, they've been able to grow closer while finding their own unique paths.
"I saw that she had her own friend group when I got here, and I developed my own friend group when I came for football camp," said Omar. "So I was able to make good connections with the football team, and she's had her connections from her previous three years here. So that's been nice."
Keturah says they were also initially able to maintain their own identities by living in separate residence halls, but "then he moved to Ram, which is where I live," she joked.
With differing vocational paths, both would like to continue working in athletics. Keturah is interested in sports nutrition while Omar's goals is to become an athletic director. No matter their future paths, they know that they have someone who is encouraging them along in the journey.
Cara Echols '19, student news writer