Looking to make an impact
03/09/2022
Alumna sets the stage as the first multicultural student affairs assistant
2020 graduate Leslie Beasley didn't plan to return to Bluffton University a year after starting her career in education, but then she answered a phone call from Tyson Goings '00, student counselor and director of diversity, equity and inclusion.
"I was praying for something where I could have more of an impact, and I got a call from Tyson about this position," explained Beasley, now the multicultural student affairs graduate assistant. "It is the perfect position for what I want to do now and what I want to do in the future. It's allowed me to reach my ultimate goal of working with students of color at a college."
Beasley's primary responsibilities as a graduate assistant are advising the leadership team for multicultural student organization (MSO) and assisting with cultural intelligence (CQ) trainings for faculty, staff and students. She is also pursuing her Master of Arts in Education (MAEd), serving as the hall director in Neufeld Hall and collaborating on a research project in the education department. As the first person to fill the role of multicultural student affairs graduate assistant at Bluffton, Beasley is "setting the stage."
"It's intimidating, but I've had a lot of help from Tyson and others on finding the best ways to fulfill the needs of our students," said Beasley, of the two-year position. "We're kind of starting over it seems because of COVID, and we have a lot of freshmen in MSO."
With a concentration in educational leadership, Beasley immediately began using the skills she's gained in her graduate-level courses including Managing People in Organizations.
"I took a lot from that class and applied it to our team by figuring out how to have better communication with everyone on the team," said Beasley. "I've been able to see my team grow so much and change and develop into the people they are meant to be."
Beasley is also working with Dr. Gayle Trollinger, professor of education, to increase the number of students of color who major in education. One of the initiatives is surveying students from diverse backgrounds.
"We'll take the feedback and do further research and interviews with students to figure out strategies we can implement in the education program to recruit and retain students."
While being back on campus was "weird" at first, Beasley is enjoying being part of a campus she describes as "changing in positive ways."
"I feel like people are being more vocal about issues on campus, and the university is willing to have those hard conversation with the student body," said Beasley. "It's very, very good. There's still work to do, but we're going in the right direction."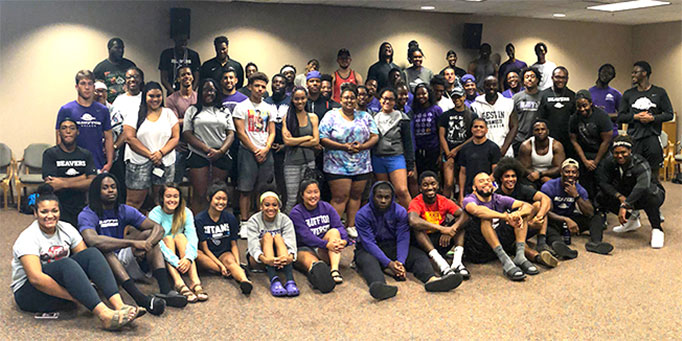 ---
MSO seeks to bring students of all cultures together to build awareness and promote diversity in the Bluffton community.