And J Denny is...
01/23/2019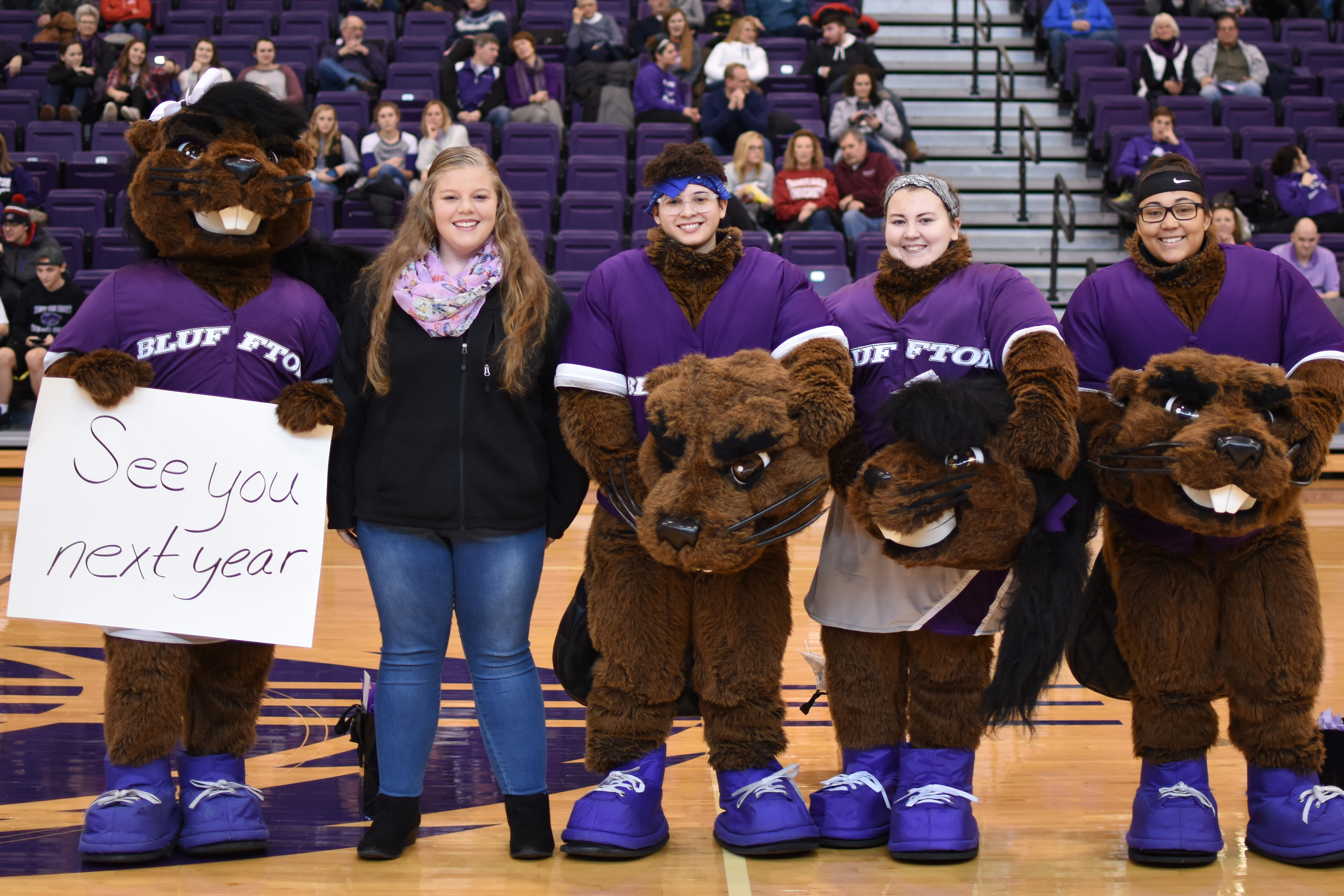 Bluffton Beaver family revealed
Perhaps one of the most tightly guarded secrets at Bluffton University is the identities of J. Denny and Jenny Beaver. Even the closest of friends, roommates and family members of the students who portray Bluffton's mascots may have no idea who is actually in the suit. However, another generation of Beavers have concluded their mascot mission and are prepared to tuck away their tails for the next group of eager Beavers. But first, let's learn about the newly identified Beavers.
Jena O'Brien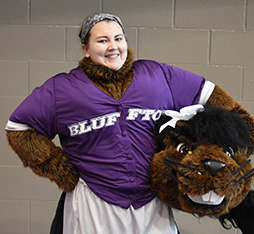 "I'm so thankful I was able to 'suit up' and perform," said Jena O'Brien '19, a public relations major from Toledo, Ohio. "Every time I saw a picture or video of myself as Jenny, it gave me a little jolt of pride knowing that I was part of something bigger than myself on campus, and that I am able to say that I was part of this small group of students/alumni who shared this same experience of bringing spirit to Bluffton's campus."
Serving as Jenny, she was involved in summer orientations, the Muddy's Birthday celebration at a Toledo Mud Hens game, several campus sporting events, photo and video shoots, including the Beaver Christmas video, Riley Creek Festival and posing with President Wood in her first picture with the Beavers.
A former Beaver served as inspiration to O'Brien and encouraged her to try out. "I was able to talk to her and find out if it was doable for someone as involved as me on campus," said O'Brien. "It didn't take much time when I was talking with her for me to realize that this is something not only could I do but it was something I had to do."
O'Brien's greatest trial was figuring out how to explain to others why she wasn't attending events when she had to be in the suit, but she soon found a way to show up early or late to events so others grew less suspicious.
"My favorite part was just seeing the joy Jenny can bring to so many people," said O'Brien. "Whenever I performed, I always had somebody asking for a hug or to take a picture and it just reminded me of the relationships this campus forms."
Amryn Dover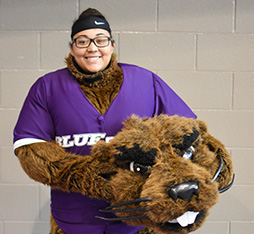 For Amryn Dover '21, from Columbus, Ohio, being a Beaver was an ironic but great experience. "When I was a kid, I was terrified of all mascots and characters. I once missed a whole Easter egg hunt because I thought the bunny was going to attack me," she said.
However, Dover overcame her fear to put on the suit and become Bluffton's own J. Denny. She represented the Beaver at sporting events, the Welcome Week Freshman Olympics and a few other events around campus.
Dover learned about being a Beaver her freshman year from her resident advisor who served as a Beaver in 2017-18. "It was an overall great experience," Dover said. "I'm glad I did it."
For Dover, not being able to share her true identity was difficult. "The hardest part was keeping it a secret from my peers and not talking about the events I Beavered while talking with them." However, her favorite part was the anonymity of being in the suit. "I enjoyed being able to do the silliest things and nobody knew it was me."
Cara Echols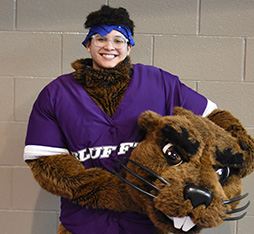 "I knew that I wanted to be a mascot from the minute I started applying to colleges," said Cara Echols '19, an art and writing major from New Bremen, Ohio. "On orientation day, I passed J. Denny and my mom pointed at him and yelled 'She wants to be you someday!' I laughed but soon enough it came true! I liked it so much, I stayed for two years."
Serving as J. Denny and Jenny as needed, Echols was involved in several sporting events, campus photo and video shoots, Discovery Day, Welcome Week Freshman Olympics, the BUNA Harvest Dinner, a wedding reception, Dam Jam, summer orientation, Homecoming and more.
Echols' favorite part was being able to be a bigger part of campus, attend athletic events and have new experiences with students on campus while being in the suit. "Probably something a little more bittersweet was getting to tell my grandma that I was the mascot before she passed away. The way her face lit up made all of the sweat and hard work worth it, and I would do it all again just for her," she said.
The experience was testing at times, said Echols, but was one of her favorite memories during her time at college. "It is definitely worth it, if you're willing to put your heart and soul into doing it."
Takayla Gadberry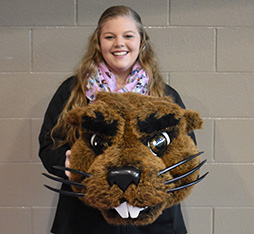 Takayla Gadberry '20, a psychology major from Lockland, Ohio, learned about being a Beaver from her hall director after the reveal. "She told me that she thought I would enjoy being a Beaver, so I tried out," said Gadberry. Serving as J. Denny, Gadberry was involved with graduation, Dam Jam, Finals Breakfast, the BUNA Harvest Dinner, the Bluffton Christmas parade and a few admission events like Discovery Days.
Her fondest moments are "interacting with students, alumni and especially younger kids. Most of them enjoyed interacting with the Beavers and made it easy to stay in character," Gadberry said.
One of her greatest challenges was keeping the secret from her friends. "I often participated in big events and they always questioned why I wasn't with them. At Finals Breakfast, someone actually figured it out, and it took a lot to play it off and change their mind."
While keeping the secret might have been a daunting challenge, Gadberry states being a Beaver was a great deal of fun. "It was fun being part of such a strong Bluffton tradition, and I encourage anyone who wants a fun group to be involved in to try out!"
- by Cara Echols '19