Multicultural Student Organization
01/31/2018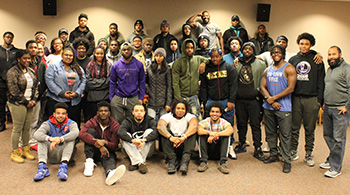 01/31/18
MSO builds family through discussion and diversity
Bluffton University's Multicultural Student Organization (MSO) is growing and adapting to fit the needs and interests of today's students. The club's mission is to bring together students of all cultures to establish a stronger campus community. The organization builds awareness, promotes diversity and encourages leadership development while serving as a family-type support system for students across campus.
Students are encouraged to be open and allow their voice to be heard through discussions and conversations. "We're all brothers and sisters, and you can talk about whatever is on your mind and people will be cool with it," said Isaac Zickafoose, a junior sports and recreation major from Middlebury, Ind.
In the last three years, the organization has grown to an average of 40 students attending meetings each week. Tyson Goings, director of multicultural affairs, is encouraged by recent progressions of the organization. "I think with the growth it shows the support that is here for the students," he said.
However, members welcome additional growth. "A lot of people think that Multicultural is just for African American students on campus, but it's not just about that. It's about all cultures," said Olivia Poole, a senior communication major from Shaker Heights, Ohio. "Everybody should have input about what's going on in our group and bring suggestions of ways we can transform and contribute to campus."
MSO is the combination of two previous groups on campus known as the African American Student Organization (AASO) and The Bluffton Latina Society (BLS). The organization also promotes Project H.O.M.E. (Hope, Opportunity, Mentorship and Education), a mentorship program designed to assist Bluffton's incoming students of color by pairing them with upperclassmen as they begin their collegiate journey.
Malik Jackson, a senior accounting major from Cincinnati, Ohio and president of MSO, uses his role as a mentor to uplift his peers and to grow personally.
"I feel like it definitely encourages me to continue to build my leadership skills," he said. "I know I have a good relationship with the young guys, and I hope my encouragement leads them in their goals in life."
Secretary for MSO, Malika Thompson, notes the organization challenges students to think deeper on perceptions of both individual issues and greater-world issues.
"It helps me understand people's different backgrounds," said Thompson, senior Spanish major from Cincinnati, Ohio. "Also, being able to spend time with people that may understand my perspective on being a student of color at Bluffton also gives me a sense of comfort and welcome."
Students in MSO have many aspirations for the organization and are encouraged by the growth thus far. MSO leadership encourages students on campus to take part in meetings and events, as all are welcome.
"What I want it to do more of is create that sense of family to where all students feel like they have support," said Goings. "And if they ever need help, they know they can go to other group members or they can reach out to me for whatever support is needed in whatever aspect of life."
-B-
Cara Echols '19, PR Student News Writer