Brianna Keith '18
01/25/17
Flute performer gets technical during semester in Nashville
During the fall 2016 semester, Brianna Keith '18, a music major from Grafton, Ohio, explored the harmony between technology and music. "It was very difficult, but also very rewarding," she said. "It was a lot of fun, and if I was able to do it again I definitely would."
Keith spent the semester at the Nashville Contemporary Music Center. Students at the CMC follow one of three tracks: artist, business or technical. Through the technical field, she oversaw soundboards, lighting design and studio recording. She also directed stage management for the performance tour at the semester's end.
Keith's love of music began in the fifth grade when she learned to play the flute. In high school, Keith said, her interest in technology grew while her passion for music continued. Through her studies at Bluffton University and the CMC, she now sees the music industry in a new way.
The CMC promotes the technical track by explaining that every great song requires a person with the technical skills to realize that artists' vision. The technical elective allows students the opportunity to work on high-end professional gear in real-world settings.
"We got 16 credits while there," said Keith. "However, we didn't take tests, we didn't have homework and we didn't take notes. Everything was memorize this, learn how to do this. It was all hands on. "
At the end the program, and for the final exam, Keith and the other students hosted a concert tour. "We took a very large truck filled with a lot of gear," Keith said. "I was the person who had to manage getting that all set up and torn down as quickly as humanly possible and even a little faster sometimes."
Students do the booking, advancing, performing and technical work on the tour with shows at high schools, colleges and universities near Nashville.
The program offered a Christian focus in its message, which strongly resonated with Keith. "A lot of our discussions focused on how to be a Christian in an industry that tends to not follow Christian values," she said. Understanding how to manage artists and to be an artist in such an environment was something that Keith found to be crucial to her experience.
While Keith's ultimate goal is flute performance, "those can be rather difficult jobs to get sometimes, this gives me another avenue to go, another route," she said.
She encourages others with interests in technology and music to explore their intersection. "You don't have to go in knowing all of it," Keith said. "If you go in as a complete beginner that's ok, you just have to be willing to work hard at it."
As a performer, business major and growing music technician, Keith says she has gained much from the experience. "It was really nice being there and being able to see all three topics and how they relate," she said. "I could understand what each of the tracks was going through and learn even more."
-B-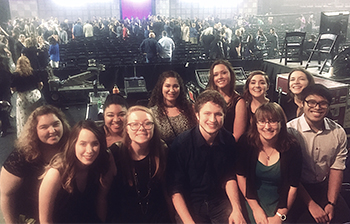 "You don't have to go in knowing all of it. If you go in as a complete beginner that's ok, you just have to be willing to work hard at it."