Semester in Music City
01/07/2020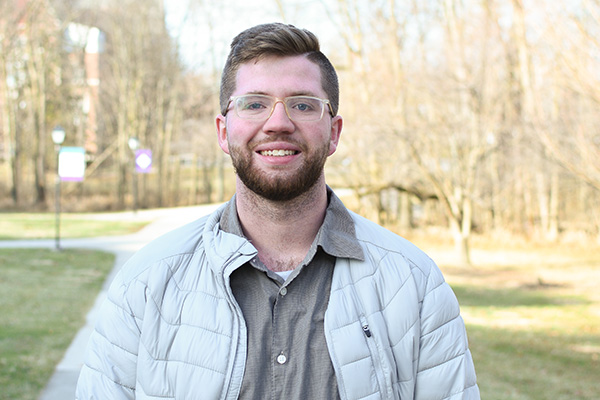 junior gains professional music experience
Julian LaVallee, a junior music major with a concentration in business, spent fall 2019 in Music City Center – a 2.1 million square-foot convention center in heart of Nashville, Tenn.
The semester-long experience, hosted by BestSemester, is provided by the Council for Christian Colleges & Universities (CCCU), and has helped LaVallee determine a future career path and developed his faith, as well.
"This experience allowed me to gain clarity on what I want to do with my career," said LaVallee. "I also learned how to incorporate my faith into my career - I didn't associate the two together before coming to Nashville."
"Your morals should be put ahead of the 'gig' sometimes. You should allow God to take you where you need to go rather than where you might want to go."
The Jefferson, Ohio, native spent his time on the tech track, where he learned about audio, lighting and management positions in this career field.
"Each day was different. For example, on Tuesdays, we would have classes, but on Thursdays, we would put on a new show for the artists," explained LaVallee. "We put a full show together – including doing a sound check and a full run-through so everyone was on the same page for that evening. On Fridays, we would review the show, go over our professors' comments and suggestions, and figure out what happened and how we could have fixed it."
But, it was the end of the semester that really struck LaVallee.
"The coolest part was our final exam when we went on a mini tour," said LaVallee. "We had 7 events in 14 days, and I was the monitor engineer and the stage manager during that time. I made sure everything on the stage was set appropriately, as well as getting talent on and off the stage on time. Being able to see the crowd's reaction was priceless!"
LaVallee credits Bluffton on preparing him for the experience.
"Bluffton gave me hands-on experience in the Yoder Recital Hall booth, as well as a music background to assist me through the various situations we encountered," he said.
But, LaVallee, whose goal is to move to Nashville after graduation from Bluffton, also thanks the mentors in his life for his success.
"Nothing brings me more joy than telling my mentors how they influenced my life, and I'd love to be able to do that for someone else."
LaVallee explains that his high school sports coaches taught him how to have a good work ethic, his high school band director was the driving force behind his involvement in music, and several people on campus make sure he is on the right path for his career.
"Coach Adam Craig and all of the Bluffton music faculty have been mentors to me throughout my time at Bluffton. They always put my best interests first and ask me the tough questions – I know they want to see me succeed."