Relaxing on stage
01/05/2021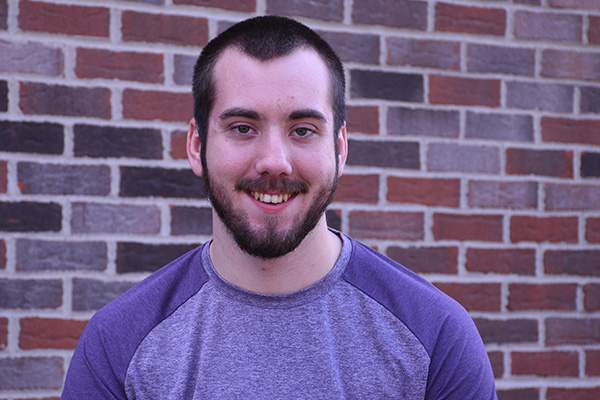 Bible and theology major flourishes on stage
During fall semesters at Bluffton University, Adam Shanaman '22, a Bible and theology major from Bellevue, Ohio, can often be found on stage outside of class. This fall, however, "the stage" was instead a computer screen for this year's compilation of short plays written for Zoom, "Alone, Together."
"I'm really glad we still got to do theatre with COVID going on," said Shanaman. "It was definitely a unique experience."
Of the five short plays, Shanaman was heavily involved in two. He directed the play "Neither Here Nor There" by Arlene Hutton and performed the role of Stephen in "Pandemic Therapy" by Jami Brandli. A theatre minor, Shanaman had directed plays for class and had served as an assistant director with local productions, but the Zoom performances presented a completely different set of challenges than he was used to.
"Is everyone's internet strong enough, will a device glitch, is somebody in the room next door going start blaring music?" Shanaman explained. "I'm glad I got to experience it, but I hope we can go back to normal soon."
While many people have a fear of the stage, for Shanaman, acting is a form of relaxation.
"It's a nice escape from the struggles of everyday life because you can pretend to be somebody else for a few hours each night," he explained. "It's really fun and really exciting, and I think it could really complement my future career."
Shanaman's goal is to work in youth ministry following graduation. Not surprisingly, his favorite class at Bluffton has been Principles of Youth Ministry with Randy Keeler, associate dean of academic affairs and professor of religion.
"That class solidified that, yes, this is what I want to do," said Shanaman.
He appreciated being back in the classroom this fall and enjoys the small program size and personalized attention from the professors in the religion department.
"Most of the classes for my major are taught by the same three professors and they all bring something unique to the table," explained Shanaman. "They are all just passionate and full of knowledge. I feel like I'm getting a great education."
Shanaman moved around a lot as a kid, but he often visited his grandparents in Bluffton, and the university was on his short list before he even came for an official tour.
"I've always enjoyed the community and the village itself, but when I came for a campus visit, I stopped searching," said Shanaman. When you walk around, you see how friendly everyone is towards one another. At Bluffton, people make eye contact with you, you wave to each other. I knew this was the type of place for me."