Pit-fired vase places
11/17/2023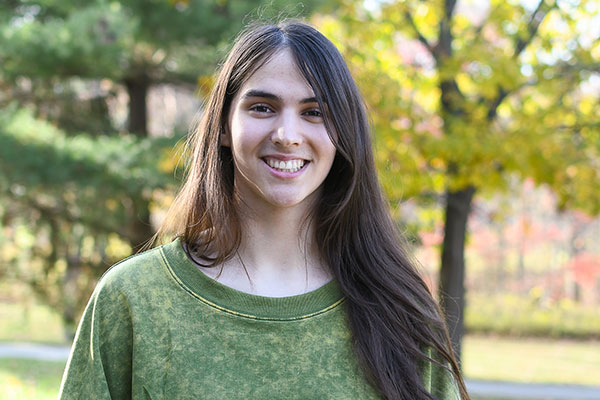 Novice potter places in ceramic show
Rosanna Barber, an art and writing double major from Bowling, Green, Ohio, came to Bluffton thinking she would be a painter. Then, she took a ceramics class.
"I was blindsided, and I was hooked," said Barber. "In high school, you take like two weeks of ceramics, and you're done so I had never actually gotten good at it. I still paint, but having a whole semester made me realize how much I love ceramics."
At Bluffton, Barber's skills have grown immensely. Recently, her pit-fired vase "Trial by Night" won second place at the Findlay Art League's Ceramic Show. It was a banner outing for Bluffton. TR Steiner, ceramics instructor, took home Best of Show.
"That was very exciting especially because the others who entered were all professionals," said Barber. "It gives you the feeling of 'I could really do this.' It's encouraging that other people find value in the work I make."
At the opening, Barber had the opportunity to talk with other artists and learn about their work and inspiration. In the future, she would like to open a ceramics studio, but for now, she's exploring additional passions including her second major: writing.
"I had enough space in my schedule that I could graduate in three years and also do another major," said Barber. "I'm the type of person who likes to do everything 200 percent or it's not worth doing, and I like writing a lot. It's interesting to explore that interest rather than just take one or two classes for it."
This summer, Barber married fellow Bluffton student Elijah Lundquest. They commute from Ada, Ohio, but she remains connected on campus by attending Gaming Club events and being on the editorial staff of "Bridge: The Bluffton University Literary Journal."
Bridge accepts submissions, ranging from poetry to short fiction, from young people around the world. Staff members are currently selecting the pieces for the next edition, and the meetings include some passionate debate.
"Usually, we're on the same page for the top 100 or so," said Barber, "but you can't have 100 pieces."
Barber took college classes at a large state-school during high school and enjoyed the art department, but she didn't enjoy the large class sizes and the disconnect from her professors. She chose Bluffton for its smaller size, the ability to graduate in three years and the hospitality.
"I liked how friendly everyone was on campus. You show up and everyone already knows your name," said Barber. "The professors are really helpful. All of that has kept me here."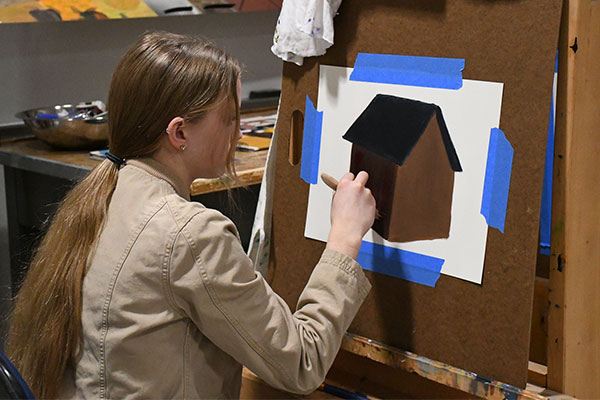 ---
Our diverse, intellectual, social and faith-based environment serves as an important piece in educating developing artists, designers, teachers, therapists and scholars.