A quest to help people
11/01/2023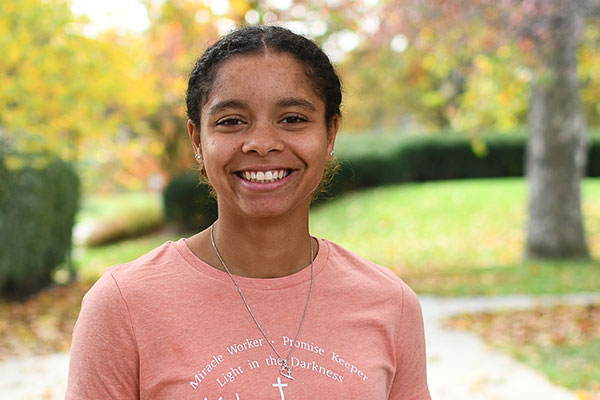 Camp experience opens doors
Cheyanne Bolden '25, a psychology and social work double major from Sidney, Ohio, knows exactly what she wants to do in life.
"I want to have a career where I am able to help people – talk to them, figure out what's going on and help them find a solution," said Bolden.
Originally a nursing major, Bolden switched to psychology because she likes learning about people and how they work. She added social work this semester after spending the summer as a counselor at Camp Robin Rogers in Spencerville, Ohio. The camp serves children and young adults with autism and disabilities as well as their siblings.
"I loved every second of that experience," said Bolden. "The campers are intelligent, creative and good with communication. They never failed to enjoy the moments given to them. I think that's an important thing to say because not everyone does that, and I think it's an incredible thing to do and to witness others do as well!"
When the camp season ended, Bolden continued working with some of the children at the ARC of Allen County's Day Services program. The opportunities also allowed her to experience the field of social work in action.
"For a lot of the kids, the social worker at camp was someone they could go to and rely on," said Bolden, who is now taking Intro to Social Work.
Outside of class, Bolden is a member of the golf and cheerleading teams. She also works at the tech center, is a member of Marbeck Activities Council and serves on the ministry team.
"Being part of the ministry team really helps me grow my faith," said Bolden. "I feel understood and at peace."
This semester, she is also a Becoming a Scholar mentor and recently returned from The Great Adventure where she saw "a lot of growth" in first-year students. She credits the class, including the fall break trip to the Great Smoky Mountains, as being her favorite as a freshman.
"If you are open minded and are listening, participating and engaging with the lessons, you can really learn a lot about who you are as a person and what you want to do in life," she explained.
Bolden chose Bluffton because it was far enough away from home while still being an easy trip back on I-75. Plus, the golf course was beautiful, the class sizes were small and the people were friendly.
"On my visit, I felt really welcomed. I felt like I was part of the community without even part of the community yet," said Bolden.