Helping others succeed
10/10/2023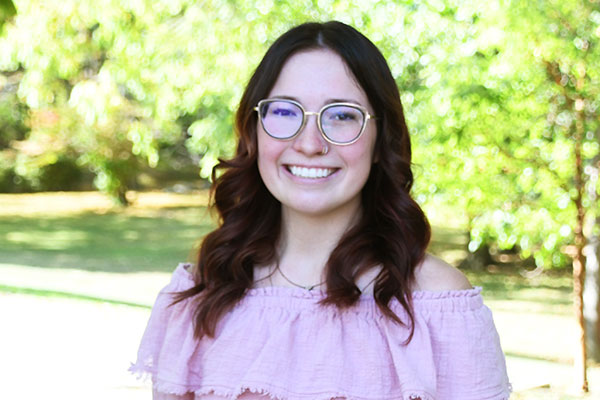 A passion for service
Ella Meyers '26, an intervention specialist major from Kalida, Ohio, is gaining a wealth of experience toward her Bluffton University major.
This summer, Meyers began working full time as an independent provider in Putnam County and helped people with disabilities meet their personal goals. She worked individually with about 10 clients who ranged in age from five to 50. Clients chose the times and days of the week they wanted to meet, with each client's goals outlined by an Individual Service Plan (ISP).
"For example, one person's goal was 'I want to learn how to cook healthier,' so for my two hours with him, we would get groceries and cook healthy meals," explained Meyers. "He still calls me and tells me what he's cooking so I know I made an impact, and I'm hoping to continue that in the school setting."
She enjoyed the work so much she's continuing the position part time during the academic year. Meyers was initially unsure of her vocation, but it started to come in focus when she was asked to help teach a dance class for kids.
"One of the students had Down syndrome, and my dance instructor assigned me to specifically help him," said Meyers. "She noticed I had a really good connection with him and said that my directions were set and clear."
That summer, she worked as a counselor at Camp Robin Rogers, a camp in Spencerville, Ohio, specifically for children and young adults with developmental disabilities and their siblings.
"They have a pool and a playground for everybody," said Meyers. "It just kind of warmed my heart making connections and realizing everybody's capabilities."
Still, she needed help to realize those experiences could inform her future career.
"I wasn't sure about going to college, but my mom said, 'I think intervention specialist is your thing. Working with people with disabilities may be your calling,' and she was right," explained Meyers.
At Bluffton, Meyers gained even more experience during an education department field experience at Lima Senior High School. While intervention specialists, also known as special education teachers, earn a multi-age teaching license, the field experience led to Meyers' realization that she's most interested in working with older students.
She also credits Marathana Prothro, assistant professor of communication, and Dr. Gayle Trollinger, professor of education, with supporting her goals and encouraging her to go above and beyond her own vision of the future.
On campus, Meyers works in the bookstore and gives tours as a President's Ambassador. She's also a Becoming a Scholar (BAS) class mentor and participates in Multicultural Student Organization, Bluffton Education Organization and Marbeck Activities Council events.
As a BAS mentor, she recently accompanied first-year students on Bluffton's Great Adventure to the Great Smoky Mountains of Tennessee. Last year, she formed close bonds with her classmates through the experience.
"As a class, we always stuck together even though we didn't have to," said Meyers. "Having a close connection with the friends I made in that group will forever be something that I cherish."