More than sisters
08/25/2023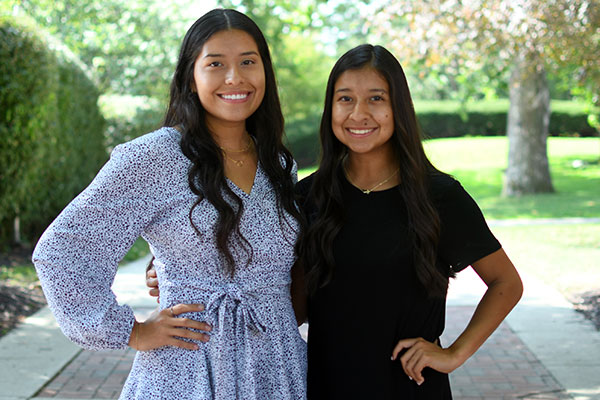 Ramirez siblings feel at 'home' with each other and at Bluffton
When Brittney Ramirez '24, a business administration and marketing double major from Archbold, Ohio, was visiting colleges, the choice was clear.
"I think I was just set from the beginning," said Brittney. "I saw the community and I felt like Bluffton was a home away from home."
But her sister Karley Ramirez '25, a primary p-5 education major, wasn't sure at first. The youngest of four, Karley was also looking at larger colleges.
"My parents were surprised because I was really indecisive," said Karley. "Then, one day I told them I paid my deposit for Bluffton, and their jaws just dropped."
The sisters are roommates and compete together on the women's soccer team.
"Coach really enjoys having us on the field together because he says we can read each other's minds," said Brittney.
However, they've also maintained their individual identities.
Brittney became interested in entrepreneurship and event coordination after planning big family events including her quinceañera. More recently, she's honed her finance and customer service skills as the manager of the Archbold Swimming Pool and by working in management at a restaurant. Following graduation, she plans to earn her MBA at Bluffton and eventually own an event venue.
Brittney is involved on campus as a President's Ambassador, Multicultural Student Organization (MSO) president and Marbeck Activities Council (MAC) coordinator.
Karley served as a tutor in high school and taught swimming lessons as a lifeguard.
"I always had a good connection with kids, so teaching felt like my calling," said Karley, who would like to teach near her hometown.
On campus, Karley is a President's Ambassador, Becoming a Scholar mentor, Bluffton Education Organization (BEO) member and MSO delegate.
Both will graduate early which made the choice to attend Bluffton even easier.
In making her decision, Karley followed not just in Brittney's footsteps but in the footsteps of their two older siblings, also Bluffton graduates and soccer players. Sister, Jessica '14, was a social work major, while brother, Adrian '16, was a criminal justice and social work double major.
They are now based in Lima, Ohio, and when the younger sisters need a home-cooked meal, they're just 20 minutes away from family.
"I think my parents really enjoy that we all came here," said Brittney. "They know we are going to get a good education and that we'll be well-rounded human beings as well."