Embracing opportunities
06/14/2023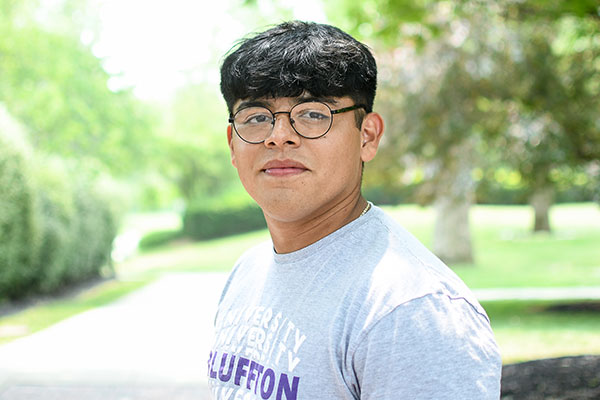 Ready to become a leader on campus
Angel Velasco Urbina '25, an exercise science major from Lexington, Ky., had given up his goal of playing college soccer and was planning to attend a university near home when he got a last-minute recruiting call from Bluffton University's men's soccer coach.
"I visited in the middle of July and decided let's give this a try," said Velasco Urbina. "I went to the last orientation in August, and I was like, 'yep, I'm coming here,' and I've loved it ever since."
The decision turned out well for the goalkeeper. He was named Second Team All Heartland Collegiate Athletic Conference as a first-year student and earned First Team honors as a sophomore. The Beavers also advanced to the HCAC tournament the last two years.
As for a major, Velasco Urbina chose exercise science with the goal of becoming an athletic trainer.
"I've seen what athletic trainers can do for athletes, and I want to help other athletes," said Velasco Urbina. "Exercise science is a steppingstone to athletic training with some extra classes."
He appreciates the hands-on learning experiences provided in classes offered by Sarah Lehman, assistant professor of biology, and Amanda Beard, assistant professor of health, fitness and sport science. In the fall, he'll serve as Lehman's mentor for her Becoming a Scholar class for first-year students. He will also serve as a President's Ambassador, resident advisor and delegate for Multicultural Student Organization.
"During my sophomore year, I focused on intertwining myself more on campus, and I applied for more positions," said Velasco Urbina. "I'm a very social person and I like to meet new people and build connections—to be able to reach out to people and also have them be comfortable reaching out to me."
Graduating from a large high school, he appreciates Bluffton's close-knit community and meeting people on campus who had different experiences growing up.
"When I first came to Bluffton, and I heard people say they graduated with like 50 people, I was like 'how small is your hometown?' It was just mind boggling. It was a little culture shock for me," said Velasco Urbina. "But as a President's Ambassador, I get to meet more people and learn about why they're coming to Bluffton."
In the fall, he's excited to attend 60 in 6 events (60 events in the first six weeks of college). Following graduation, Velasco Urbina plans to attend graduate school for athletic training with the goal of working for a professional team. He'd also like to impart some of his athletic knowledge as a coach.