Go where you are happy
06/12/2023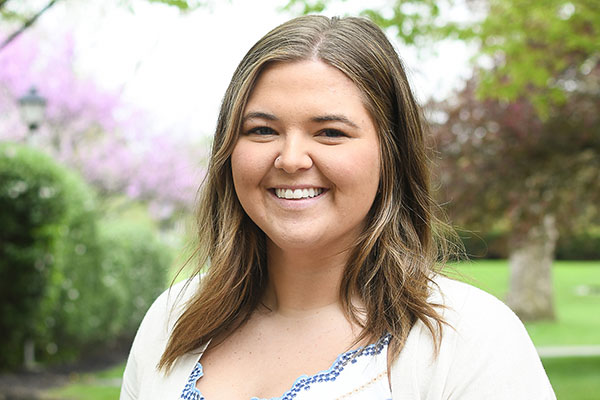 Transfer student finds her home at Bluffton
Kennedy Parker '25, a communication and media major and two-sport athlete from Lima, Ohio, transferred to Bluffton University at the beginning of her sophomore year.
"College is supposed to be the best years of your life, so what's the point of wasting your time somewhere if you know you're not going to be happy," said Parker. "Go where you are happy. It's your future, not anyone else's."
After a frustrating first year at a different university where she played softball and had difficulty settling on a major, Parker entered her name into the athletics transfer portal and remembered her high school visit to Bluffton.
"So, I decided to visit campus again. It was close to home, and I loved it," said Parker. "I immediately knew I wanted to be here, and I haven't looked back since."
Not only was Coach Paige Jansen excited to have Parker as part of the softball team, Coach Steve Yarnell asked her if she was interested in picking up volleyball as well.
"I had taken two years off from volleyball, so it was a big adjustment, but Coach Yarnell welcomed me with open arms," said Parker. "It's been the best experience."
In addition to finding an athletics home on campus, Parker found her academic home in the communication department after trying out education, marketing and business administration. She has a packed schedule but will still be able to graduate in four years. Parker credits Marathana Prothro, assistant professor of communication, for teaching classes she is excited to attend.
"I would say my most challenging but exciting classes are hers," said Parker. "It's cool to learn about the things I want to do. Now, I can see the bigger picture of my future."
Parker gained experience as an intern for Follow the Eyes, a marketing agency in Lima, Ohio, but her dream job is to manage social media for a professional athletics team.
While being a student-athlete can be a challenge, Parker appreciates the support she receives on campus.
"Both professors and coaches are understanding," said Parker. "They work with each other really well, and they all want the best for you."
This fall on campus, Parker will also be a resident advisor and serve on Student Senate to give a voice to student-athletes.
Describing herself as "always on my feet, go, go go, never stop," she's ready for the additional responsibilities.
---
Phi Theta Kappa's Transfer Honor Roll recognizes excellence in the support of community college transfer students.