Hannah McBride
12/05/2018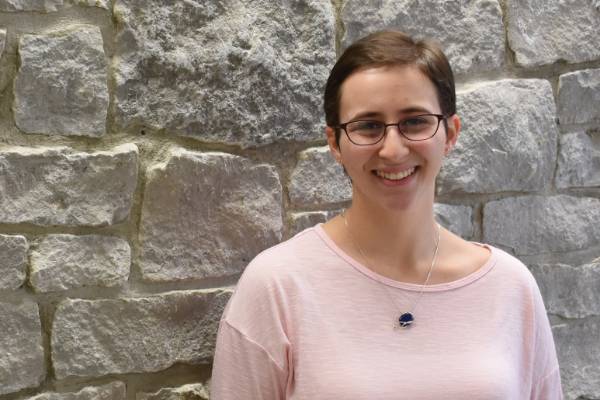 Bluffton University junior leads through Chapel music
BLUFFTON, Ohio—For Hannah McBride, a junior from Port Clinton, Ohio, there's one part of Chapel she connects with the most. "I really like the music aspect of worship services," explained McBride. "That's when I feel the closest to God, and I realized I want to do that as a job."
As Chapel worship coordinator at Bluffton University, she's already getting the experience. The music ministry and worship arts double major schedules students to lead worship, often writes the benediction and sings with the praise band.
"I prefer the singing part," said McBride. "It's what I'm most comfortable doing, but it's really good to get the administrative experience as well."
Last year, McBride served as the Sunday Night Worship coordinator. In both roles, she's enjoyed the fellowship she's experienced on campus. "People are really interested in knowing how you are, and they also just want to worship with you. The positive atmosphere is really nice."
McBride came to Bluffton knowing she wanted to be a music major. "I've been singing since I could talk, and I've been playing flute since I was 11."
She was drawn to the program because of the individualized attention from professors and small campus feel. "I was homeschooled all the way through, so I was looking for a smaller school because, to me, anything was going to be huge," joked McBride. "When I visited I really liked the campus layout and atmosphere."
McBride's favorite classes include Music Theory with Stephanie Titus, who developed a music escape room for one lesson, and any with Dr. Jackie Wyse Rhodes, assistant professor of religion. "I love taking her courses because she brings a really great energy to class, and I really appreciate that."
And while it can be difficult to take one-on-one voice lessons, McBride says she has grown as a singer because of them. "I had never taken a voice lesson before last semester," McBride said. "It's been interesting, but I really appreciate the guidance I've received."
Through her studies and involvement, McBride spends quite a bit of her day in Mosiman Hall. She is a member of concert band, woodwind quartet, University Chorale, Camerata Singers and Bluffton's chapter of the Ohio Collegiate Music Education Association.
-B-