A foot in the door
01/20/2023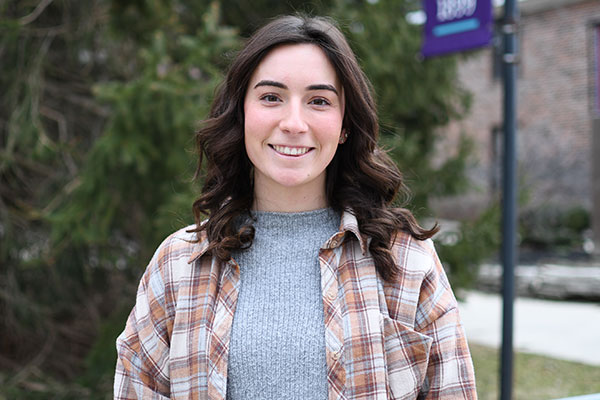 Learning in community class leads to yearlong internship
Rachel Hellman '23, a graphic design major with a marketing minor from Delphos, Ohio, learned the importance of time management, self-discipline and holding herself accountable through her yearlong internship with the owner of The Met, Robert Nelson, located in Lima, Ohio.
"He never really gave me a whole bunch of deadlines but I always made sure when he needed something done, I always get it to him in a day or two," said Hellman. "It helps me stay on top of it and then it will also be ready for whenever he needs it."
This internship for Hellman was designed to where she helped the owner with any sort of marketing and business he needed. While she was helping him in creative projects for The Met, she also was dabbling in design projects for Lima Senior softball team and a softball travel team; as he was the head coach.
Hellman got her foot in the door with this internship during her Learning in Community class when she had met him, which is where she started side projects for The Met. This encounter then turned into a yearlong internship to receive credit for her major.
"One of the big, main projects I was working on was a cook book hand guide with procedures and recipes for their cooks," said Hellman. "It'll make it easy and a learning experience so when they have to hire new people, they can just pull that up."
Hellman also made PowerPoints for the bartenders at The Met.
Even though Hellman is now proficient in Photoshop, Illustrator and formatting design work, she wouldn't have chosen to go into her declared major if it wasn't for her high school yearbook and her mother.
"It wasn't really something in my head that I thought I could really make this a job; I love doing arts and crafts and always had as a kid," said Hellman. "But, then my mom suggested graphic design to me, and I'm glad she did because I wouldn't be where I am today without her advice and her pushing me to be in this major."
Hellman actually transferred to Bluffton after completing a year at Ohio Northern University. She hopes for when she graduates, she will work for a small marketing firm. She also could see herself working for a university in sports graphics or even free lance to have her own business.