Kan Du internship
11/18/2022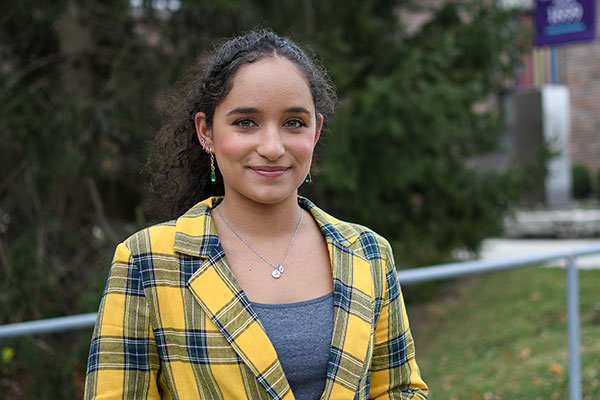 'Life changing' internship experience
Adrianny Ruiz Suarez '24 came to Bluffton as an art and writing major but quickly found her fit as a pre-art therapy major with a photography minor instead.
"I realized my passion was helping people," said Ruiz Suarez, of Columbus, Ohio. "I think that art is a medium that is not used enough for helping people be able to express themselves and open up."
She is currently completing a psychology internship at Kan Du studio in Findlay, Ohio, where she helps people with a range of physical and cognitive disabilities create art.
"It's been great. Honestly, it's so much different to do something than to learn about it," said Ruiz Suarez. "I'm hoping to do another internship next semester to get even more experience. It's been life changing for me."
During the internship, Ruiz Suarez learns more about each person while explaining different art techniques such as shading.
"Sometimes making stuff is a better way to express how you're feeling rather than talking about it," said Ruiz Suarez. "So, I think it's something that is very useful for many different types of people, including non-verbal people."
Her major now includes two of her passions—art and psychology—and she's seen the benefits of pre-art therapy in herself.
"Art has always made me feel better," said Ruiz Suarez. "When I'm making things or actively working on something, the art gives me purpose."
Ruiz Suarez is very active outside of her internship and the classroom. She works in the library as a student assistant, is a C. Henry Smith Scholar and was Margot Frank in the fall play, "The Diary of Anne Frank."
She's also involved in Social Work Club, Spiritual Life Week committee, Beaver Monologues committee, Brave Space, Camerata Singers, University Chorale, Bridge, SERVE and Anime Club.
"I really liked that Bluffton was a smaller campus," said Ruiz Suarez. "I'm from a fairly large place with a big graduating class, so it was overwhelming, and I never felt at home. I felt Bluffton would feel very much like a home."