Lisan Gains Experience
06/10/2022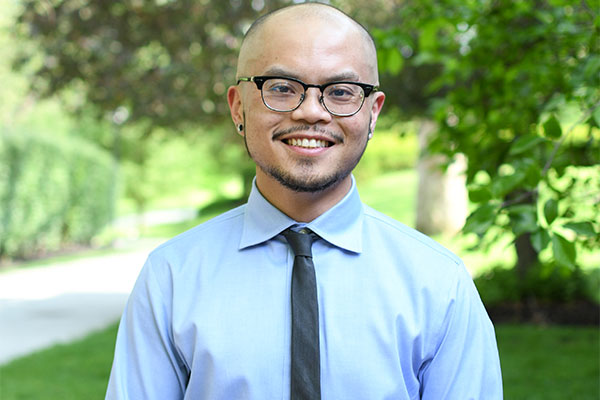 Dietetic intern gains community health experience
Californian Joshua Lisan never expected to live in Ohio, but the decision is leading him to the career of his dreams. He spent the 2021-22 academic year completing a dietetic internship with Bluffton University. The fifth year of study, taken after students have completed a bachelor's degree, is also known as the Individualized Supervised Practice Pathway (ISPP). Completion of the program in late May allows him to sit for the Registered Dietitian Exam later this summer to become a Registered Dietitian Nutritionist (RDN).
"I ended up in this internship for a reason, and I got to experience living in a different part of the country that I never would have imagined," said Lisan. "I drove from California to Ohio. During that process I got to see parts of America that I had never experienced before."
During the 9-month ISPP, students complete experiences through a variety of rotations in and near Bluffton.
"One of the most memorable experiences was when we planned a community meal with the Leipsic Community Center," said Lisan. "That was a very rewarding experience."
He explained the most challenging rotation was working with kidney patients during a clinical experience at Lima Memorial Health System. However, rotations also took him to WIC and the OSU extension in Hancock County and Activate Allen County in Lima.
"A lot of the hands-on experience included curriculum development and planning nutrition material," said Lisan. "We did presentations to different audience levels ranging from preschool kids to the elderly. I think that was a highlight for me because that's something I thrive in."
The ISPP experience also includes professional development classes taken on campus at Bluffton. He appreciated the speakers who came to share stories about their careers.
Lisan earned his bachelor's degree in 2013 from San Francisco State University and worked for several years in food service as well as community and clinical nutrition. The work experiences built up his portfolio before he started applying for internships in spring of 2021. He is most interested in community nutrition and sports dietetics because of his personal experiences with weight and body image issues.
"I was able to apply what I was learning in dietetics to develop and sustain a healthier lifestyle by improving my nutrition," said Lisan.
With a strong background in grass roots organizing, Lisan's goal is to incorporate health and nutrition into his efforts in activism.
"I feel ready. Bluffton's internship is really great. It's handled by professionals in the field with many connections," said Lisan. "Abby Stemen [clinical educator in dietetics] did an amazing job connecting us to different resources in Ohio and helping us find rotations we would want to eventually focus our work on."
While he plans to establish his career back in California, Lisan said the program "opened my eyes to the possibility of being able to work in a different place and thrive in that new location."