Experiences in Archives
06/01/2022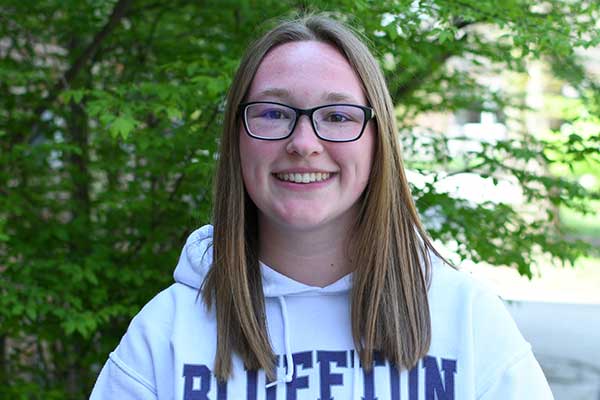 History Major Gains Valuable Experience in Bluffton University's Archives
BLUFFTON, Ohio— Since her first year of college at Bluffton University, Hannah Stevanus '23 from Spencer, Ohio, has been working in the library archives as an opportunity to develop experience for her major in history.
"As time has gone on, I have been able to expand what I have wanted to do on different things," said Stevanus. "It has really helped me prove this is what I really want to do."
Stevanus started out as a history education major, although as she continued working in the archives she grew out of wanting to be a teacher and into focusing more in history.
Her high school teacher, Jessica Watkins '15, a Bluffton alumna, sparked her interest in history and introduced Stevanus to her alma mater.
"Knowing she was able to teach history the way that she did, I knew that part of that was due to the school [Bluffton] and how they set her up to teach," said Stevanus.
Upon her arrival, Stevanus started working in the library archives with Carrie Philips '99, Bluffton University's library director. Stevanus' initial projects included digitizing documents—scanning them and adding them to the university's website.
As she gained experience, Stevanus started working on bigger projects including an exhibit in Marbeck Center for the 15th anniversary of the Bluffton Baseball bus accident. Stevanus selected and reorganized items such as baseballs and posters signed by other schools, plaques and even a bat that was sent from the National Baseball Hall of Fame and Museum in Cooperstown, New York.
Stevanus plans to continue her work in the archives through all four years of her undergraduate studies and will complete an internship with the archives in the spring of 2023 where she will complete more extensive projects.
Professors like Perry Bush, professor of history, have also encouraged Stevanus in her research and studies.
"He loves what he does and wants us to feel the same way; he surely doesn't hide that," said Stevanus. "He teaches in a way that deters you from being discouraged."
She is particularly interested in the Vietnam era, and when Stevanus took Bush's research seminar class, she wrote a research paper on the campus protests against the Vietnam War.
"At Bluffton, there are professors like Perry who want to see us succeed, and if you need them, they will be there for you no questions asked," said Stevanus. "I think that because it is a small school you can make connections with people. When I leave my room, I'm going to see someone I know and have a good conversation with them."
Following graduation, Stevanus plans to continue her studies in graduate school and earn a Public History Certificate to work in archives and museums.