Headed to medical school
05/25/2022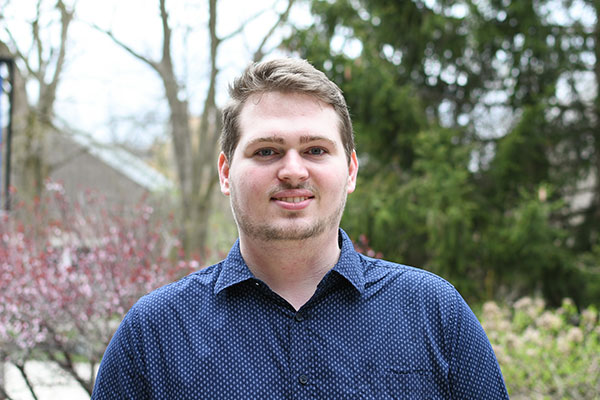 Bluffton University's Ben Heck headed to medical school
Ben Heck, a 2022 pre-med, chemistry and physics graduate, is the latest recipient of the Dr. John Kraft Award at Bluffton University. Each year, the $5,000 loan/grant supports a student who enrolls in medical school with the loan being canceled upon completion of the first year of medical school.
Accepted to the University of Cincinnati, Indiana University and Northeast Ohio Medical University (NEOMED), Heck will be attending the University of Toledo College of Medicine and Life Science to continue serving the people of northwest Ohio. It's no surprise he is pursuing a career in medicine.
"I would say my parents planted the seed of the idea because they are both doctors," said Heck, of Alvada, Ohio. "Growing up, I saw how you can help your family as a doctor, how you can help your community as a doctor."
Starting in high school and continuing at Bluffton, he began shadowing doctors, completing research and volunteering. The experiences further cemented his desire to pursue clinical care.
"I've shadowed with primary care and radiology and enjoyed those experience, but I want to go into medical school with an open mind," said Heck.
During the 2020-21 academic year, Heck worked with a team at the University of Toledo researching compounds with the potential for bone formation and the treatment of conditions such as osteoporosis.
He's also volunteered at Blanchard Valley Health System and the Armes Family Cancer Care Center in Findlay.
"Some of the work I did was clinical like taking temperatures or weights, but I also learned more about interacting with patients," said Heck. "It's tough. Some of the patients had cancer, and I tried to be a comfort to them by providing blankets or talking to them while they were waiting or walking to their next destination."
Heck was drawn to Bluffton because of its campus.
"I liked the small, rural environment and the sense of community," said Heck. "Bluffton was also 40 minutes away from my home, so I was able to go home and see my family, but it was also enough distance to experience college life, live on campus and get involved."
On campus, he was a Science Club officer and a C. Henry Smith Scholar. And while he says all of the professors at Bluffton helped him reach his medical school goals, he believes Dr. Angie Montel's lessons were instrumental.
"Dr. Montel's classes do a really good job of preparing you for the MCAT," said Heck. "Biochemistry, microbiology, cell biology—she prepares you for all of the biologies you need for medical school."