Student teacher thrives
03/18/2020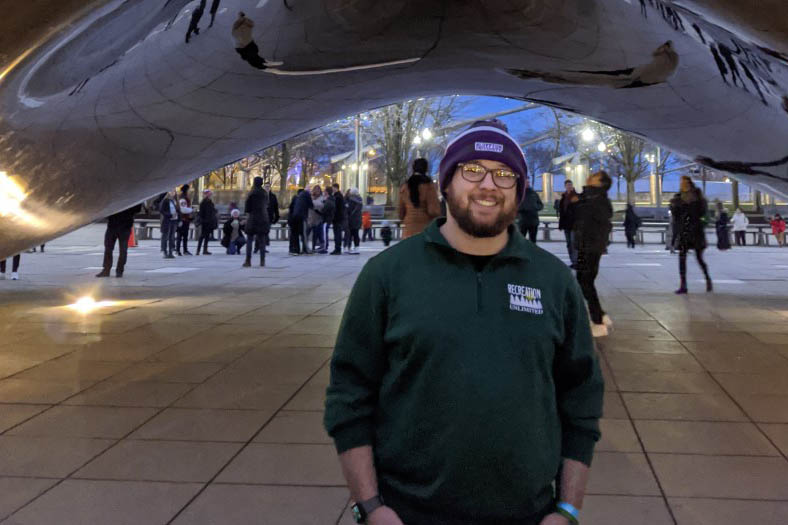 Bluffton University student teacher thrives
Up until last week, Robert McMullen-Ruppert '20, a Bluffton University intervention specialist major was student teaching in inner-city Chicago through a partnership with the Chicago Center for Urban Life and Culture. The experience was both challenging and rewarding. Then a new challenge arrived. Schools were closed to delay the spread of COVID 19.
So, McMullen-Ruppert answered a call from the Bluffton education department. He signed up to become a Bluffton Study Buddy. The program links Bluffton education majors including student teachers to children and families in need of educational enrichment through the Zoom videoconferencing platform. Now, the Montpelier, Ohio, native is leading reading groups and interacting with young students while being monitored by Bluffton faculty.
"Helping students in any way is a blessing," said McMullen-Ruppert, who remains in Chicago. "It is amazing that we get this opportunity to help and teach kids even though we are not physically in their presence. I am still getting the experience of teaching and working with others. I still get to lesson plan and teach – just in a different way."
Bluffton Study Buddies held its first session on Wednesday, April 18 and is evaluating the needs of the different students joining. On the first day, McMullen-Ruppert electronically connected with students in Ohio and New York.
"The amount of preparation we go through to get to this point in our education is unimaginable, but it pays off in the end," McMullen-Ruppert said. "All that time I spent in the Tech Center making up lesson plans or unit plans, all that time and paper I used to make resources or study guides, it's all paying off and is starting to come together, so I'm really excited."
While the Bluffton Study Buddies opportunity is a unique way to prepare for the world of full-time teaching, McMullen-Rupert was already part of an innovative student teaching opportunity through the Chicago Center for Urban Life and Culture.
"Student teaching in Chicago has been different from any experience I had in an Ohio school," McMullen-Ruppert said. "I'm thankful for the opportunity to teach somewhere that's a lot different than what I'm used to. It's a great experience because you have to be very open minded and culturally responsive when teaching."
McMullen-Ruppert said while the different setting provided different challenges, Bluffton gave him a good foundation of knowledge to build from.
"I felt very well prepared because of all the lesson planning we did to get ready. Bluffton also gave me great materials to refer to when I'm out in the field," McMullen-Ruppert said. "The program at Bluffton provides a great opportunity for individual growth, which I've definitely seen in myself."
At Bluffton he also developed his people skills, something that he's found very helpful in the classroom.
"My time at Bluffton helped me understand how to relate to my students more," McMullen-Ruppert said.
At Bluffton, McMullen-Ruppert was involved in Bluffton Education Organization (BEO) and Student Senate. He also served as a Bluffton University mascot, filling the roles of both the J. Denny and Jenny characters as needed.
"BEO gave me helpful resources and has offered me many opportunities to work with other educators," McMullen-Ruppert said. "Student Senate helped me open up and work with others to reach a common goal. Being the mascots allowed me to do things I don't think I ever would have outside of the suit—making people laugh and having fun with the fans and little ones was just amazing."
He sees Tim Byers, assistant professor of education, as his mentor, and someone who helped him determine that teaching was the right path for him.
"He has been a huge help through my last four years of school," McMullen-Ruppert said. "He always knew how to challenge me and help me when I was struggling."
The connection with the professors in the education department and the "comforting" feeling he got on his visit to campus drew him to Bluffton as a first-year student.
"It's one of the best education departments in Ohio, and coming into the program, I knew they were going to help me achieve what I wanted to achieve," McMullen-Ruppert said.
While McMullen-Ruppert said he's enjoyed his time in Chicago, he plans to move to Columbus, Ohio, to teach at an elementary school following graduation. He said he's looking forward to applying everything he's learned to a classroom that's all his own.
For more information about Bluffton Study Buddies and how to take part in the opportunity go to www.bluffton.edu/studybuddies/ Students will be directed to the appropriate help after joining the Zoom meeting.
- Aubrey Bartel, public relations student assistant