Cardiac health
02/24/2023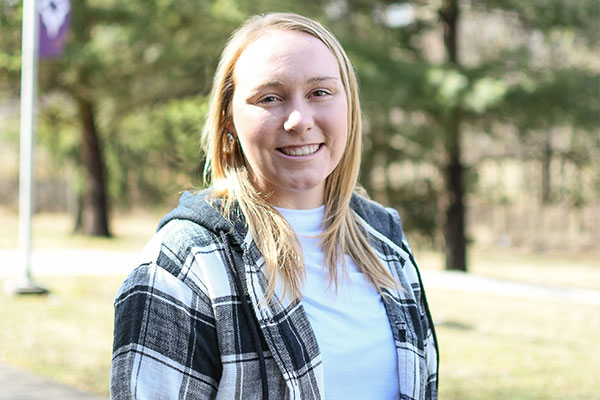 cardiac rehabilitation experience
After watching her grandfather struggle with cardiac health issues, Sydney Zinkon's goal has been to work in a hospital setting. The senior exercise science major from Coshocton, Ohio, gained hands-on experience doing exactly that as an intern in the cardiac pulmonary rehabilitation unit at Blanchard Valley Health System during the fall 2022 semester.
At first, she shadowed day to day activities. However, as time went on, she was able to do rehab work directly with patients who had previously had a heart attack, a stent inserted or other heart issues. She also worked with patients who had asthma or lasting issues due to COVID 19.
"If someone new came in, I normally would teach them stretches and how to work the machines," said Zinkon. "Sometimes, I would also monitor the computer system where I could see if something was wrong when they were exercising."
Most interns in the program came from bigger state schools, and Zinkon was the first Bluffton University students to complete the internship. The classes that prepared her the best included kinesiology and anatomy.
"I was worried at first going in because I am just now in Biomechanics," said Zinkon. "I learned how to read the heart monitors because I hadn't learned that yet in my classes here."
Zinkon chose Bluffton after emailing several small college coaches about playing softball. After coming on an overnight visit to Bluffton, Zinkon fell in love with campus and wanted to come back. She is a four-year member of the team and plays second base for Beavers softball.
Her advice to prospective Bluffton students is: "Reach out and go for it. I was nervous at first walking and talking to people for the first time. Just go for it. College goes by so fast; your whole experience goes by so fast."
Her internship confirmed her career choice, and following graduation Zinkon plans to pursue a career in cardiac rehabilitation.