Connecting through faith
01/29/2020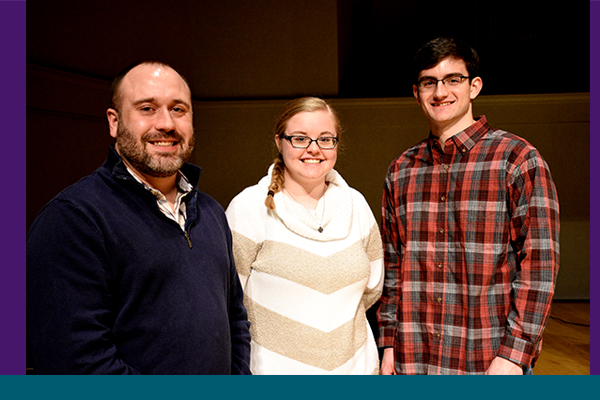 STUDENTS AND ALUMNI CONNECT THROUGH FAITH AT BLUFFTON UNIVERSITY
At Bluffton University, it's all about relationships, and the worship band has allowed two current students to form meaningful relationships with alumni, as well as strengthen their relationship with God.
Spencer Garrison '22, a business administration major and Spanish minor, began playing electric guitar in the worship band as a first-year student. Now, he's the worship band coordinator at Bluffton. He helps choose the songs, leads rehearsal for chapel, sings and plays the guitar for the service.
"My favorite part of the experience has been sharing the gifts God has blessed me with," Garrison said. "This is something I did not do much of previously in my life, and I love the opportunity this has given me to bring other friends to chapel, like the baseball team."
Amy Marshall '22, a social work and psychology double major, joined the worship band in the spring of her first year before becoming one of the Chapel planning coordinators.
"I love getting the chance to help other people worship and connect with God through music," Marshall said. "Helping people have personal experiences with God during chapel is my priority, whether I am onstage or running the planning behind the scenes."
When someone was needed to help lead worship, Dan Metzger '05, senior pastor at St. Mark's United Methodist church in Findlay, Ohio, thought of the worship leader for his congregation, James Adkins.
"James got involved at Bluffton helping out where he could," Metzger said. "As he started forming relationships with people like Spencer and Amy, it blossomed, and the next thing you know not only was he playing here but they were going to our church to play."
The relationship Adkins has formed with both Garrison and Marshall is something both students value, and both would like to serve as worship leaders in the future.
"It's one of my favorite ways to connect with God," Marshall said.
Metzger believes the interaction has had a positive impact on his church community as well.
"It's really brought a lot of life to our church having students come in, bringing different perspectives and their gifts and abilities," Metzger said. "I really have a passion for seeing college students grow in their faith, so it's been cool to see them be able to grow in their faith in our church and here."
While being a part of the worship band has been a good experience for Garrison at Bluffton, he can see the benefits of it carrying on after graduation, as well.
"I believe that being part of the worship band will help in a lot of different ways in the future," Garrison said. "It has definitely helped and will continue to get me out of my shell and use the gifts that I have been given. I am also becoming much more open about my Christian faith and what I believe."
While the worship band has been an integral part of Marshall's experience at Bluffton, the community aspect is something she also values.
"I've definitely gained the community I knew that I would get by coming to Bluffton," Marshall said. "I know that my professors care about all of their students, and I really like the students within my major. I've really loved being a part of ministry team and being a part of such an awesome group of Christ followers while also being a resource to the people in my building and on campus."