Music scholarship worth the audition
01/03/2022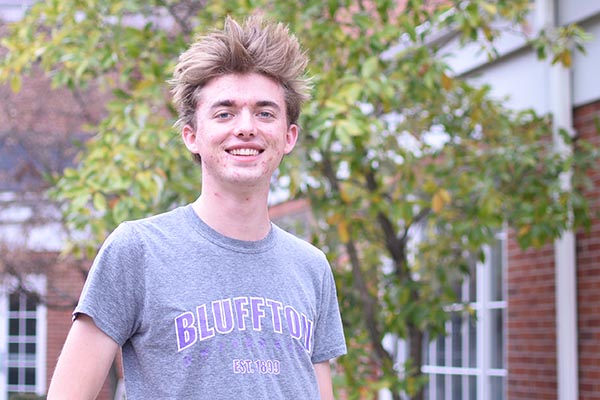 Sharing the gift of music
Kayden Cordell '23 always knew he was going to be a teacher. The occupation simply runs in his family.
"My mom is a kindergarten teacher, my dad is a 6th grade history teacher, one aunt is an English teacher in Guatemala and another aunt teaches fourth grade," explained Cordell of Marysville, Ohio. "My grandparents on both sides are retired, but they were also teachers."
If everything goes according to plan following graduation, Cordell will be the first music teacher in his family. His goal is to direct a show choir.
"Ever since I was young, I've participated in music groups so I thought, let's see if I can help my future students find their gifts through music."
Cordell's primary instrument is his voice, but he also plays saxophone and percussion. He shares his own gift of music as a member of nearly every music performance group and ensemble on campus, from Camerata Singers to Jazz Ensemble.
"I definitely love performing for our campus community especially in Yoder Recital Hall," said Cordell. "We have a really nice recital hall."
He's looking forward to student teaching since COVID-19 restrictions have reduced some opportunities for students to get hands-on experience in classroom settings. However, this summer, he was promoted to lead teacher of a summer day camp program for 3 and 4-year-old children at St. John's Lutheran School, a private school in his hometown. He also co-taught a music and dance summer program for older children.
"It's a lot of trial and error, but it has definitely given me experience in the classroom," said Cordell. "The best day was when I just brought in a bunch of instruments."
Cordell chose Bluffton after attending a Discovery Day group visit and auditioning for music scholarships. Though he describes the audition as a "bit nerve-racking," he earned Bluffton's prestigious Music Performing Scholar scholarship worth $21,000 annually.
"To anyone who is thinking about auditioning, I would say, go for it. Everyone was super friendly," explained Cordell, who describes the music department as a close-knit family. "Bluffton's faculty were interested in learning about what I wanted to do and in providing helpful reviews of my performance."
In addition to performing in Bluffton's various music groups, Cordell is a member of Bluffton's Ohio Collegiate Music Education Association (OCMEA) chapter and works as a student assistant in Yoder Recital Hall and videographer for campus sporting events.