Alumni honored
11/06/2023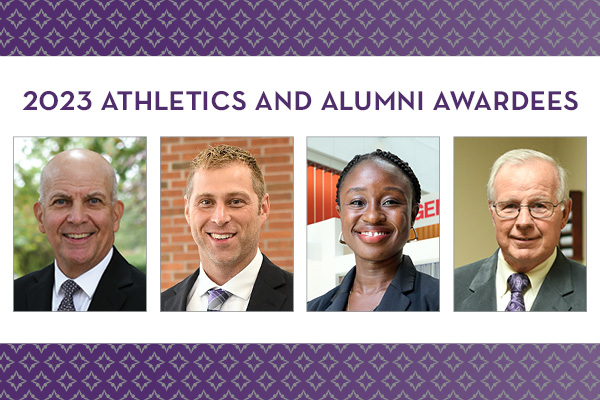 Inaugural Award of Merit presented
Exceptional Bluffton University alumni are honored each year during Homecoming at the President's Banquet. During the Oct. 21 event, Greg Wannemacher '77 received the Award of Merit and Dr. Ruth Abaya '05 was recognized with the Professional Achievement Award. Two alumni, Rich Bindernagel '79 and Dr. Michael Anthony '07, were inducted into the Athletics Hall of Fame.
Award of Merit
Greg Wannemacher '77 is chief executive officer of Wannemacher Enterprises and has been a member of Bluffton's Board of Trustees since 2009. He began his career in sales at Double A Trailer Sales, Inc., a family business in Delphos, Ohio. In 1991, he bought what is today known as Wannemacher Enterprises of Lima, Ohio, a growing packaging, warehousing and distribution business. He is a member of several professional organizations including the American Trucking Association.
Wannemacher is very involved in his community including serving and leading boards ranging from the Shawnee School District Board to Allen County Health Partners. He is a member and past president of the Allen County Chamber of Commerce board, past president of Lima Area Jaycees, and currently serves as chair of the Allen County Civic and Convention Center. In addition to his role of trustee, Wannemacher has served Bluffton as past chair of the President's Council of Corporate Advisors. He was the 2008 recipient of the Alumni Association's Professional Achievement Award. Greg and his wife Donna '78 reside in Lima and have three children and eight grandchildren.
The Bluffton University Award of Merit is the highest honor one can receive from the institution. This award is bestowed upon an alumnus who has gone above and beyond the call of service. This person has made outstanding contributions to the institution, is distinguished in their professional achievement and possesses exemplary personal qualities.
Professional Achievement
Dr. Ruth Abaya '05 is an attending physician in pediatric emergency medicine at Children's Hospital of Philadelphia and senior director of health systems and community violence intervention integration at Health Alliance for Violence Intervention. A 2007 Bluffton University graduate in biology, she earned her Master of Public Health and Medical Doctorate at the Feinberg School of Medicine at Northwestern University and completed her pediatric residency at the Boston Combined Residence Program.
A longtime violence prevention activist, Abaya was the lead investigator on the study, "Access to firearms among adolescents in the emergency department in Philadelphia."
Abaya has also served as injury prevention program manager at the Philadelphia Department of Public Health and co-chair for Philadelphia Roadmap to Safer Communities. She has earned awards ranging from the 2018 Resident Faculty Teaching Award at CHIP to the Eagles 2022 NFL Changemaker Award.
She has called the City of Brotherly Love home for the past 11 years and is raising two daughters there with her husband.
The Professional Achievement Award recognizes a graduate who has continued the pursuit of intellectual growth and has explored creative avenues in his or her chosen field. As a result, this individual has achieved notable success and recognition in his or her career.
Athletics Hall of Fame
A powerhouse on the golf course, Rich Bindernagel '79 was inducted into the 2023 Athletics Hall of Fame for his achievements in golf. He played on the men's team from 1976-79. Bindernagel earned All-Hoosier Buckeye Collegiate Conference honors all four years and was the first men's golfer at Bluffton to achieve the feat. He was named All-National Association of Intercollegiate Athletics (NAIA) District 22 in 1976, 1977 and 1978. In 1977 he was the NAIA District 22 medalist and qualified for the NAIA National Tournament in Saginaw, Mich. Bindernagel was a match and tournament medalist 21 times over his four years. During his senior year, Bindernagel was Men's Varsity "B" President and earned the A.C. Burcky Award as the top senior male athlete.
Bindernagel played professional golf for a year and a half including a time on the Space Coast Mini-Tour in Florida. Upon return to Ohio, he worked in accounting and sales before becoming the owner and president of The PAR Group, Inc., for 30-plus years. Now retired, Bindernagel lives in Middleburg Heights, Ohio, with his wife. They have two adult children.
Dr. Michael Anthony '07 was inducted into the 2023 Athletics Hall of Fame for achievements in basketball. A four-year member of the team, Anthony earned Honorable Mention All-Heartland Collegiate Athletic Conference (HCAC) accolades in 2004-05 and 2005-06 before being named First Team All-HCAC in 2006-07. That same year, he was also named HCAC Player of the Year and First Team All-Midwest District by the National Association of Basketball Coaches (NABC). A forward, Anthony made an impression on the record books. He's currently number 20 on the all-time scoring list with 1,183 points, and at graduation, he was the best free-throw shooter in Bluffton history with an 83 percent completion rate. Anthony also racked up an impressive 408 rebounds.
A chemistry and pre-medicine double major, Anthony is now a podiatrist at The Ohio State University Wexner Medical Center, specializing in foot and ankle ailments and injuries. He graduated from Kent State University College of Podiatric Medicine in 2011 and is certified by the American Board of Foot and Ankle Surgery. Anthony lives in New Albany, Ohio, with his wife and four kids.