Ecological history
10/30/2023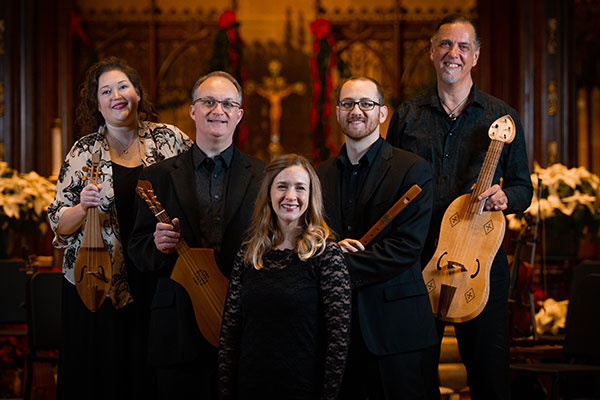 Looking backwards, inwards and to the future
Two events connecting the art, music and politics of the Renaissance era with the ecological and social crises of our own time will take place on Tuesday, Nov. 14 at Bluffton University. Both events are free and open to the public.
At 11 a.m. in Yoder Recital Hall, Bluffton will host a preview for "Tempest: Music and Poetry for a Regenerative Earth." During the morning event, James Bates, director of music group Early Interval, will engage in a lively conversation with Ellen Arnold, a renowned scholar of ecological history, and poets Jeff Gundy and Terry Hermsen.
In the evening, a full performance of "Tempest: Music and Poetry for a Regenerative Earth" will begin at 6:30 p.m. in Yoder Recital Hall. This event will feature musicians from Early Interval, a chamber ensemble from Columbus who perform Medieval, Renaissance and Baroque music on period instruments.
The nature-based musical pieces will be set against the work of contemporary poets who write about our environmental crisis. Poets include Hermsen, Gundy and Laurie Anderson. A full-community discussion of the questions and issues raised during "Tempest" will immediately follow the performance, and refreshments will be served in the Yoder Recital Hall lobby.
"These events will explore the deeper roots of our environmental crisis. If there was something back there 500 years ago to realize and unpack, what might that be? For just as Europe was growing more and more fascinated with the natural world, as well as expanding the range of its musical capacities, it was also sending ships around the globe to claim new territories, establish colonies, bring back slaves and extract untold resources from the lands they conquered," said Hermsen. "These presentations provide a mirror for not only looking backwards, but inward and toward the future as well."
"Tempest: Music and Poetry for a Regenerative Earth" has been made possible in part by a major grant from the National Endowment for the Humanities: Democracy demands wisdom. The goal is to juxtapose European music from the 15th-17th centuries, and its attitudes and adoration of the natural world, against the ecological crises in the 21st century, as represented by contemporary poetry about the climate crisis.