Emotional health
09/07/2023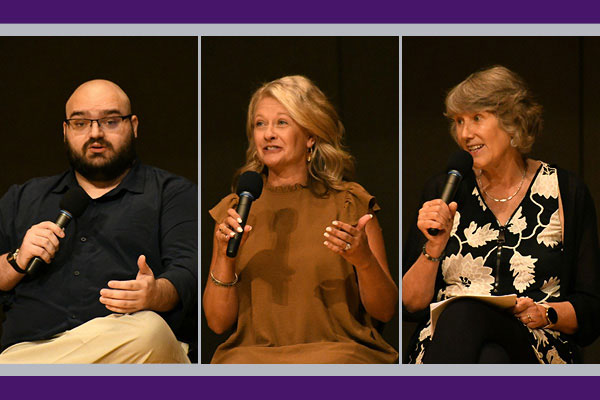 Panel discusses emotional wellness
"Emotional health is health," explained Heather Koontz, a 1997 Bluffton alumna with a private therapy practice, during Bluffton University's Sept. 5 Forum "Emotional Wellness: A Panel Discussion."
"For a long time, we thought these things were just separate," said Koontz. "That emotional wellness was different than physical health, but what we're aware of now is when we integrate the two it helps a person to improve. We have better outcomes of emotional wellness, along with a healthy body, a healthy mind, a healthy spirit."
Moderated by Forum coordinator, Gerald Mast, panelists also included Bluffton faculty members Michael Bailey, visiting assistant professor of psychology, and Laurel Neufeld Weaver '83, assistant professor of social work and MSW field director. The discussion introduced Bluffton's 2023-24 Civic Engagement theme "Exploring the Continuum of Emotional Wellness."
Panel questions ranged from the reasons why mental health issues are on the rise to the obstacles people face in managing their emotional wellness.
Technology was a hot-button topic during the panel. While social media can help destigmatize mental health issues and spread awareness, it can also create problems.
"Social media is a tool for connection so why do we feel so isolated and alone?" asked Neufeld Weaver, who also has a private therapy practice. "We have a lot of information coming at us and sometimes that information can fuel anxiety and worry and misinformation."
Instead of looking to social media for a diagnosis, the panelists encouraged audience members to seek help from a licensed mental health provider. Neufeld Weaver also shared that a key to emotional wellness can be found in Bluffton's four enduring values of Discovery, Community, Respect and Service and in particular Community and Respect.
"Every individual needs to be seen, heard and valued, and that's what we want to do here," she explained.
Bailey shared about the challenges students face after transitioning from a traditional K-12 school setting.
"You're told to think critically and to be engaging and to challenge things, but throughout the entire school system growing up most of us are taught specifically there is one correct answer," said Bailey. "The incentive structure for school is all based around grades, but in the real world grades don't matter very much."
In his general education classes, Bailey said he instead focuses on providing students with tools for dealing with the world.
Additional Forums, presentations and classroom discussions will feature the Civic Engagement theme throughout the year. Past topics of exploration range from engaging in respectful conversations to Bluffton's honor code.
Emotional wellness was chosen as the 2023-24 topic because World Health Organization data shows mental health conditions increasing across the world. Those concerning increases are mirrored in the U.S. college student population. The theme also connects to Bluffton's five-year strategic plan, as the campus community commits to a focus on "well-being and emotional intelligence."
Conversations around emotional wellness will culminate on April 10, 2024, during Civic Engagement Day. Class schedules are set aside for this event which includes a variety of presentations given and attended by the campus community.