Make wise choices
08/30/2023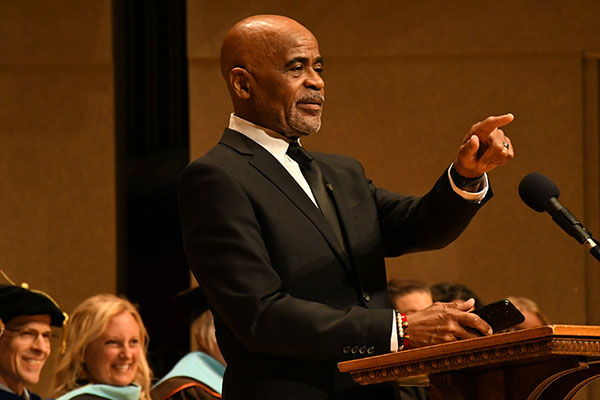 New Students welcomed as scholars
Bluffton University welcomed its 124th class of students as official members of the campus community during Opening Convocation on Aug. 29, 2023. A Bluffton tradition, Convocation signifies the formal beginning of the academic year.
During Convocation, 1972 Bluffton graduate Thomas E. "Tucker" Lott provided the address "On Becoming You."
A businessman, storyteller and mentor from Kansas City, Mo., Lott shared stories from his time in college, encouraged students to make positive choices, and reminded them they can always get back up if they fall "because falling happens."
"I came to college for me. It was my time. But I ended up blocking for an All-American," joked Lott, who would have preferred being the starting running back.
Smiling while recounting one poor choice, Lott described quitting the football team and leaving college with some classmates. However, before arriving at his childhood hometown in Pennsylvania, the group stopped in Youngstown to drop off a classmate.
"His dad was a preacher. He said, 'Are you going to run every time you face an obstacle? You have to get an education, a future.' We got in the car, made good and graduated," said Lott.
"When there are challenges, have the discipline and resolve to fight. Your mom, your dad, your uncle are not here to guide you through," said Lott as he turned and pointed to the faculty on stage. "But here on this platform are the people who can help you navigate tough waters."
Lott also referenced the importance of decision making highlighted in the first-year summer reading "The Other Wes Moore: One Name Two Fates." The book explores the lives of two men who share similarities including the same name and same hometown with one becoming an author and veteran while the other is serving a life sentence in prison.
"How you make decisions determines how you finish," he explained.
"In summary, Bluffton was a great choice," said Lott. "My inner circle of friends from Bluffton includes doctors, lawyers, accountants, entrepreneurs, actors you name it. Some of you are going to do just that."
Lott spent the day on campus and later participated in a Q&A session with first-year students.
Following the address, the names of each first-year and transfer student were read by Dr. Alex Sider, interim vice president of academic affairs. The recitation of all names is done just twice during a student's time at Bluffton with the second being at Commencement. Faculty, dressed in academic regalia, also presented honor covenants signed by each new student affirming their commitment to Bluffton's mission and purpose.