Those other duties
11/08/2022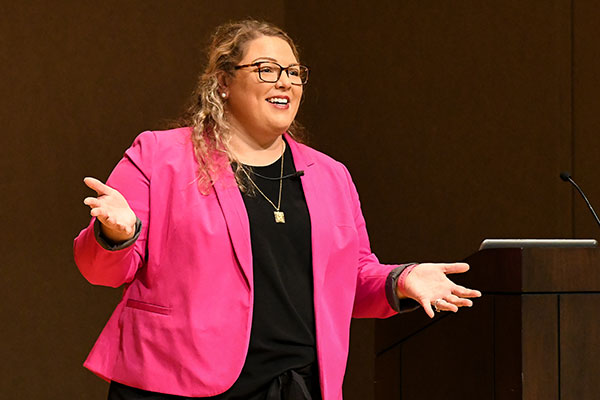 Steps to become an 'impact player'
Estée (Arend '13) Hemphill, assistant director of service for the Cleveland Guardians, has held six positions in her nine years with the organization. When she reflects on her rise through the team's front office, she places particular importance on words that are often overlooked in a job description: other duties as assigned.
"Being willing to do the 'other duties as assigned' is what's going to help you build connections," explained Hemphill. "It's going to get you a reputation, and it's going to allow you to better understand your organization and its structure."
Hemphill shared this piece of advice, and other lessons from her career, during a Nov. 8 Forum at Bluffton University called "Impact Players: The Teammates Behind the Decisions."
Originally a criminal justice major, Hemphill switched to sport management after realizing she was brimming with excitement and would practically skip to work on her way to her campus jobs with Bluffton's volleyball and baseball teams. She cited the leadership of James Grandey, head baseball coach, as instrumental to her development as an employee.
"A lot of the guys on the baseball team were my age and were my friends, but Coach Grandey held me accountable to being professional at all times," explained Hemphill. "The expectations he had of me allowed me to be ready to take on a career and know the expectations of a professional organization."
After college, she briefly worked for Wofford College in South Carolina before securing a part-time, year-round position with the then Cleveland Indians. At the time, her main goal was to transition into a full-time position in any area of the organization. Through leadership development opportunities, Hemphill quickly secured full-time employment and developed a passion in management and "service" which includes fan services and ticketing.
"I love it," said Hemphill. "It's been an amazing experience of growth and learning where I have always felt like I belong."
Back at Bluffton for the day, she also spoke to students taking the Intro to Sports Management class and discussed the importance of internships, part-time jobs and experiential learning. She also shared about seasonal work available to college students and encouraged them to pave their own path.
"I remember attending Forums myself, and to be on the stage and talking to students, I see so much possibility," said Hemphill. "Facebook has allowed me to stay connected to a lot of my classmates and to see what they're doing now, but we've been out almost ten years, and I know these students are going to do great things, too. It's exciting."