New scholarships
10/28/2022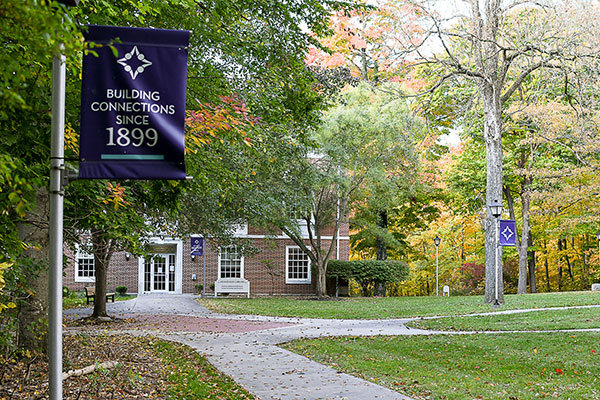 Emergency fund for international students approved by trustees
The Bluffton University Board of Trustees met in October for their annual fall meeting. The board welcomed a returning member, toured the Knowlton Science Center construction site and approved new endowments.
Charles Stapleton, a 1978 Bluffton graduate, rejoined the board. Stapleton retired in 2018 as chief operating officer and executive vice president of Motorists Insurance Group, after serving in that role since 2017. During his career at Motorists, Stapleton held a variety of positions including chief operating officer from 2014 to 2016 and senior vice president from 2004 to 2014. He has more than 27 years of executive-level experience, including strategic planning, leadership development, mergers and acquisitions and process management. He received the Professional Achievement Award from Bluffton in 2015 and the Presidential Citation from the Professional Insurance Agents Association in 2008. He previously served on Bluffton's Board of Trustees from 2016-2018.
One year after its groundbreaking, board members viewed the construction site for the Knowlton Science Center. The two-story, nearly 20,000 square foot building will feature six labs, faculty offices and interactive collaborative space for students. The science center remains on track to open at the start of the fall 2023 semester.
The board also approved three new endowments. The Shirley N. Tung and Michael W.N. Chiu Scholarship will support students studying education with preference given to female students, students from an American minority group or non-traditional students. Shirley is a 1968 graduate of Bluffton with a degree in home economics.
The couple also endowed a fund to aid international students in need of emergency relief. The fund will assist students whose primary residence is outside the United States and who have an emergency which requires financial assistance. Additional donors with an interest in helping international students are welcome to contribute to the fund.
Finally, the Dr. Perry Bush Scholarship was established. Funded by an anonymous donor, the scholarship recognizes the decades-long contributions made by Bush, a professor of history, to Bluffton University through his teaching, service, outreach, numerous publications and speaking engagements. Bush joined Bluffton's faculty in 1994 and has since published four books, among other accolades. Preference will be given to students studying history, religion or other humanities disciplines.