Civil rights
09/30/2022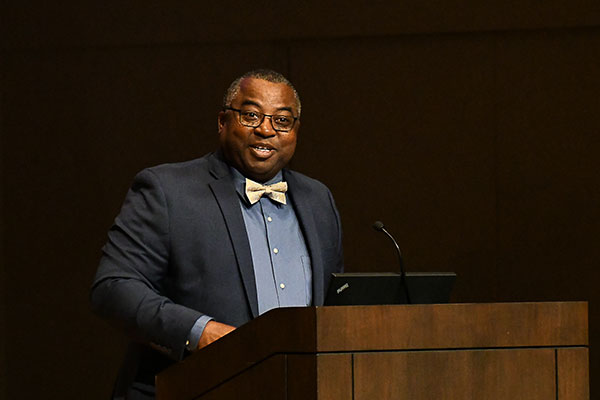 Moving the Race Conversation Forward
Dr. Todd Allen, vice-president for diversity affairs at Messiah University, shared "On the Road to Freedom: Moving the Race Conversation Forward," during a Sept. 27 Forum in Bluffton University's Yoder Recital Hall.
Opening his presentation, Allen pondered the saying "history never repeats itself, but it rhymes," and drew lines between the killings of Emmett Till and Trayvon Martin as well as the backlash to protest movements from Rodney King to George Floyd.
"I think about where we are. Where exactly is this moment we are in? How far have we come on issues of race, and how far do we still have to go?" asked Allen.
To answer these questions, Allen explained we as a society "must confront our difficult yet shared past."
"The antidote to feel-good history is not feel-bad history, but it's a true telling of history," explained Allen using a quote from James Loewen, a sociologist, historian and author. "That's the only way we're going to get to justice."
Allen also highlighted the fact that many active participants of the civil rights movement, such as the Little Rock Nine, were the same age or younger than those in the audience.
"The work is still before us. Each of us in this room are ordinary just like the person's I talked about up here. They didn't set out to be on a postage stamp…" explained Allen. "They were ordinary people who did extraordinary things."
Allen, along with Tyson Goings, director of diversity, equity and inclusion at Bluffton, will further explore these issues during a new cross-cultural experience focused on the civil rights movement.
In May 2023, Bluffton students will have the opportunity to embark on a three-week, charter-bus tour of key civil rights destinations such as the Muhammad Ali Center in Louisville, the Whitney Plantation near New Orleans and the Mississippi Civil Rights Museum in Jackson.
They'll also meet several participants of the civil Rights movement. In Birmingham, they'll talk to Rev. Carolyn McKinstry, an eyewitness to the Sixteenth Street Baptist Church bombing, and Lisa McNair, the sister of Denise McNair who was killed in the bombing. In Georgia, they'll learn from Charles Person, the youngest participant of the original Freedom Ride, and Rutha Harris, one of the original Freedom Singers. In New Orleans, they'll spend time with Keith Plessy and Phoebe Ferguson, descendants of the namesakes of the famous court case Plessy v. Ferguson.
Part of the Bluffton Blueprint, a cross-cultural experience is a pivotal element of a Bluffton University education.
"It's going to be impactful," said Allen. "Any person who goes on a trip like this and sees the places we're going to see and meets the people we're going to meet will not come back the same."