Electoral College
09/23/2022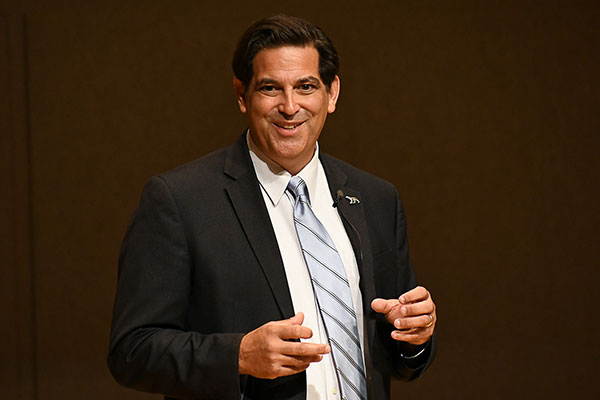 The Electoral College discussed on Constitution Day
Rob Alexander, the Wilfred Binkley endowed professor of political science and director of the Institute for Civics and Public Policy at Ohio Northern University, provided insight into the Electoral College during Bluffton University's Sept. 20 Forum in Yoder Recital Hall.
"The institution of the Electoral College is a little bit like the weather," Alexander explained. "People know something about it, they have opinions on it, but as you learn more and dig a little bit deeper into it, your opinions may change."
Alexander noted that the Electoral College was controversial at the founding of the United States and has continued to be a lightning rod. Over the years, nearly 800 attempts have been made to amend or abolish it but doing so would be a very complicated process.
He began researching presidential electors, the people who actually vote for the president and vice president, in graduate school. Prior to that point, electors had been virtually unstudied. However, the work waned until the "misfire" election of 2000. The term misfire election refers to an election when the winner of the popular vote is not the same as the winner of the electoral college vote. Ten percent of presidential elections in the United States have been considered misfire elections.
In 2002, Alexander surveyed the 538 electors from the 2000 contest. Typically chosen for their party loyalty, he found many presidential electors were lobbied to change their vote and some questioned the process.
In 2016, there were 10 faithless electors in the United States presidential election for varying reasons.
"Presidential electors really do get lobbied to change their vote, and many of them consider not voting as they're supposed to," said Alexander. "The possibility of faithless electors is something that blows most people's minds."
This led to the Supreme Court case Chiafalo v. Washington with the court ruling unanimously that states have the ability to enforce an elector's pledge in presidential elections. However, just 14 states currently have binding laws.
"The electoral college is a really complicated process. There's a lot of opinions on the electoral college and a lot of times people's views on it depend on whether they think they benefit or they don't benefit from it," explained Alexander.
However, he hopes the presentation helped students understand "their vote does matter, their voice matters. The framers were not perfect, but they put in motion a lot of institutions that govern us today, and it behooves students to understand those institutions."
Free and open to the public, the presentation served as Bluffton's annual Constitution Day Forum. All educational institutions that receive federal funds are required to offer an instructional program each year on or near Sept. 17, the day the U.S. Constitution was signed in 1787.