The Cuts is open
09/13/2022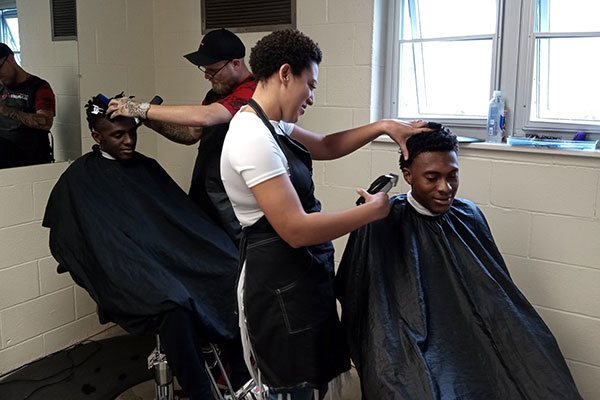 Looking good
The Cuts at Bluffton, a new campus hair salon/barbershop for all hair types at Bluffton University is now open. Located in the Multicultural Student Development Center adjacent to Hirschy Annex, Bluffton students make appointments during the week for hair services which are provided from noon-6 p.m. on Sundays.
Services are provided by barbers and stylists from FreshNFaded in Lima. They include cuts, shampooing, line ups, color, conditioning treatments, two-strand twists and retwists, braids and more.
An effort of the diversity, equity and inclusion committee at Bluffton University, The Cuts at Bluffton was made possible by a generous gift from the racial justice ministry at First Mennonite Church in Bluffton, Ohio.
Tyson Goings, director of diversity, equity and inclusion, worked with FreshNFaded to ensure the space was set up properly and had all necessary equipment.
"We are really excited to be offering this service right on campus. We talk a lot about having a sense of belonging at Bluffton. This new venture allows students to get the hairstyle they want within an easy walking distance," said Goings.
"Students can present themselves in a manner they are comfortable with and maybe not have to wait until winter break to return home or trust someone who isn't licensed to do their hair."
The Cuts at Bluffton began offering services on Sunday, Sept. 11.
Photo compliments of Tami Forbes.