Lessons from failure
09/02/2022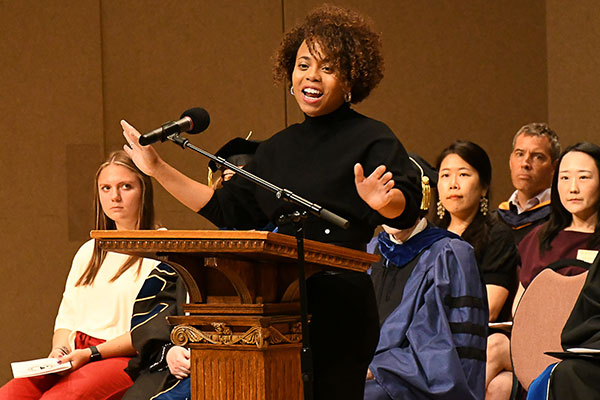 Alumna shares seven life lessons
Bluffton University welcomed its 123rd class of students as official members of the campus community during Opening Convocation on Aug. 30, 2022. A Bluffton tradition, Convocation signifies the formal beginning of the academic year.
"Our faculty and staff commit to serve as your teachers and guides this year and in the years to come," explained President Jane Wood. "We join with you in this journey of knowledge and, together, we all stand as mutual learners in this community of respect."
During Convocation, 2006 Bluffton graduate Bethny Ricks shared "Mirror, Mirror."
A corporate executive for 18 years, Ricks led multiple billion-dollar business transformations and received numerous awards and recognitions such as "Savoy" magazine listing her as one of "America's Most Influential African American Women in the United States."
However, instead of sharing about her success in climbing the corporate ladder, Ricks who is now a speaker, author and leadership expert, shared the other side of her biography with seven lessons "forged out of my tears" because the best learning comes out of failure.
The lessons are:
Who you allow to influence you, your decisions and your thoughts will matter more than the title or knowledge you obtain.
Character matters most. Even when it appears no one is watching.
The comfort zone is never free.
Resist judging from a position of comfort.
Hard and uncomfortable are two different things. Understand the difference.
Self-doubt is Kryptonite. It will suffocate the best of us right where we stand.
You are capable.
Of this last point, Ricks explained, "People will tell you that you are not [capable]. Statistics will be thrown in your face. Environments will attempt to set you back. But if you are willing to hold on to this single truth, that you can, no matter the odds, then you will."
She left the class of 2026 with a final "bonus lesson" to hold onto: God is not idle in your story.
Ricks spent the day on campus and later participated in a Q&A session with first-year students.
Following Ricks' presentation at Convocation, the names of each first-year and transfer student were read out loud by Dr. Lamar Nisly, vice president of academic affairs and dean of students. The recitation of all names is done just twice during a student's time at Bluffton with the second being at Commencement. Faculty also presented honor covenants signed by each new student affirming their commitment to Bluffton's mission and purpose.