Stadium guidelines
08/12/2022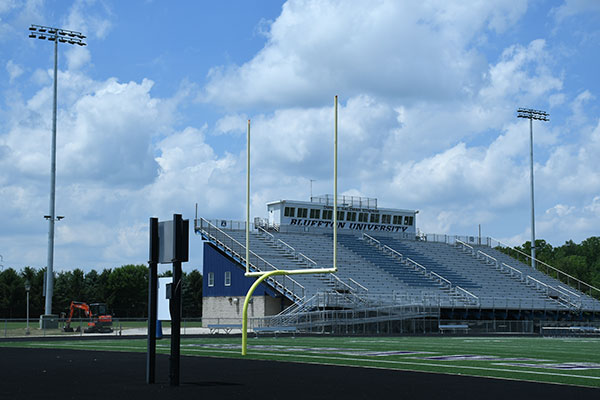 Stadium lights have been installed at Bluffton University's Salzman Stadium, and the university has set new outdoor lighting and noise guidelines for the facility as its usage increases.
"The university wants to maintain a safe environment for our students and a positive relationship with all neighbors adjacent to the Salzman Stadium athletics complex," said Robin Bowlus, vice president for advancement and enrollment management. "The stadium lights will not be turned on before 5:30 a.m. and are to be turned off no later than 10 p.m. unless the contest for which they are in use has yet to conclude. The sound system will not turn on until 8 a.m. and is to be turned off no later than 9 p.m. unless the contest for which it is in use has yet to be decided."
The first game under the lights is scheduled for Bluffton football's home opener at 6 p.m. on Sept. 17, 2022, against Adrian College. However, Alumni Field is also the competitive turf field for Bluffton's men's and women's soccer teams and the practice space for several teams; some of which plan to practice in the early hours of the morning.
With the addition of stadium lights, Bluffton University also looks forward to potentially serving as a host site for area high school playoff games and other events.
Village of Bluffton ordinances involving noise and light were used in the development of these guidelines. Bluffton University looks forward to welcoming community members at evening athletics events.