Cross Country Coach Hired
07/07/2022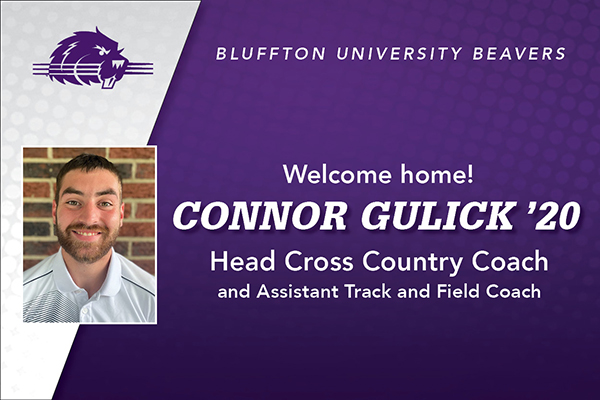 Head cross country coach hired
Bluffton University has named Connor Gulick as head cross country coach and assistant track and field coach. Gulick returns to Bluffton following two years of collegiate coaching experience at Heidelberg University. He also previously served as a volunteer assistant coach at Utica High School in summer 2019.
A 2020 Bluffton graduate in sport management and business administration, Gulick was a four-year member of Bluffton's cross country and track and field teams. He broke Bluffton's school record in the 3,000-meter steeplechase in 2019 and earned All-Heartland Collegiate Athletic Conference honorable mention recognition in 2016 for cross country and 2017, 2018 and 2019 for indoor track. Gulick served as a captain for the track team both his junior and senior years of college and for the cross country team in his senior year.
"As a proud graduate of Bluffton University and someone who is passionate about the sport, I am excited to share the knowledge I have gained with the next generation of Beavers student-athletes," said Gulick. "I would like to thank Phill Talavinia, James Grandey and the entire search committee at Bluffton University for this opportunity."
Gulick worked closely with his colleagues as a graduate assistant coach to recruit student-athletes, develop training programs for middle distance runners and assist in day-to-day operations for cross country and track and field. In May, Gulick earned his Master of Business Administration from Heidelberg. He will start at Bluffton on July 11.
The Beavers are an NCAA DIII school and compete as part of the Heartland Collegiate Athletic Conference. Bluffton has 18 intercollegiate athletic teams including men's and women's basketball, golf, soccer, swimming and diving, cross country, indoor track and field, and outdoor track and field. Bluffton also offers football and baseball for men and softball and volleyball for women.