Commencement 2023
05/08/2023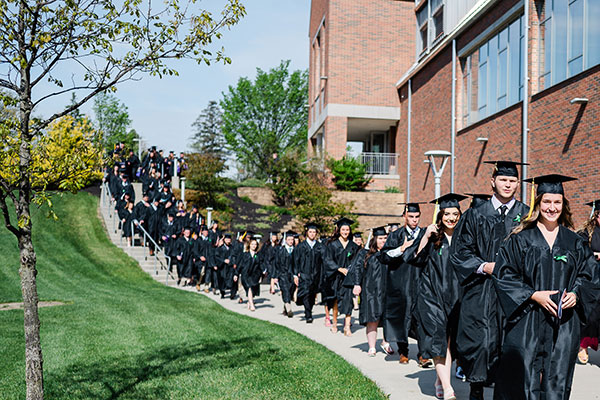 "Have faith in how far you can go"
The achievements of Bluffton University's class of 2023 were celebrated Saturday, May 6, 2023, during Commencement.
More than 200 students took part in Bluffton's 123rd ceremony including traditional undergraduate students, degree-completion graduates, and business and education graduate students.
After processing into Sommer Center, President Jane Wood welcomed the crowd.
"We are so pleased to celebrate each one of our graduates and their accomplishments today," said President Wood. "We are gathered together to participate in and witness an academic ceremony that marks a significant moment of achievement that will be forever important in each student's life."
Kathy (Gaines '78) Carr, retired principal and recipient of Bluffton's Lifetime Service Award, shared the Commencement address.
During her speech, "Bluffton College Then - Bluffton University Now," Carr reflected on her time on campus and how, even though things have and will continue to change, Bluffton's values of discovery, community, respect and service remain.
"I stand before you a Bluffton College girl right here at Bluffton University," said Carr. "Things have changed, and they haven't."
Carr's prayers and advice for the class of 2023 include:
Follow your heart. It knows the way.
Before you act, listen. Before you react, think. Before you criticize, wait. And, before you quit, try.
Always remember that you are braver than you believe, stronger than you seem, smarter than you think and loved more than you'll ever know.
She concluded her remarks with a reminder that graduation isn't the end of a journey. Instead, "it's the beginning of a beautiful one."
"Take pride in how far you've come," said Carr. "Have faith in how far you can go."
In addition to their diplomas, graduates were given a lapel pin featuring Bluffton's distinctive four-point mark to signify their entry into the Bluffton Network of Alumni and Friends.
"May you now go forward, confident and inspired by your Bluffton education, to make this a better world for all," said President Wood. "May God's presence and guidance be with you in your journey. Go in peace and with hope in all things."
This year's graduates included multiple first-generation college graduates, several second-generation Bluffton graduates, a couple third-generation Bluffton graduates and one fourth generation Bluffton graduate (a student with a parent, two grandparents and great grandparent who are Bluffton graduates). A set of twins are also graduating as well as three siblings. This year's graduates come from seven states and seven countries in addition to the United States.
Two long-time Bluffton faculty members were also awarded emeriti faculty status during the ceremony. Rev. Dr. Randall Keeler, a 1980 Bluffton graduate, was named emeritus professor of religion after serving since 1991 in roles including campus pastor, men's soccer coach, professor of religion and associate dean of academic affairs. Guy Neal was named emeritus assistant professor of health, physical education and recreation after teaching courses in physical education and serving as men's basketball coach since 1989.