Burrow philosophy
04/18/2023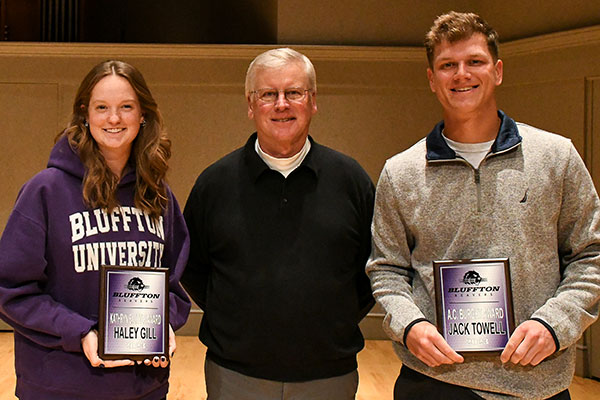 Commitment made, plan laid, price paid
Coach Jimmy Burrow has gone by different names that represent the type of leader he is. As an athlete, he went by "Jimmy" and led his teammates by example. Then, he went by "Coach" and led his players with his knowledge and experience. Now, he often goes by "Joe Burrow's dad" and serves as the vice president of The Joe Burrow Foundation, leading others to "do good" as their motto states.
During his talk, Burrow shared his "Plan to Win" and explained it is applicable not just in football but in life. While his plans to win have evolved over time, the structure has remained the same.
"First, a commitment must be made. Then a plan must be laid, and finally, a price must be paid," said Burrow. "You have to commit to success, figure out how you will reach success, and do what it takes to make the plan happen."
In addition, he stressed several characteristics for success: mental toughness, discipline, teamwork, leadership and fundamentals or core values.
"Working in a team is the fuel that allows common people to attain uncommon goals," said Burrow.
As a vice president of The Joe Burrow Foundation, he strives to lead the others on the Foundation team to "do good." In fact, it was his son, NFL Bengals Quarterback Joe Burrow, who said "Everyone has a responsibility to do good." The organization is newly created and has impacted both the Ohio Valley and Baton Rouge, La., communities already.
During the event, Bluffton presented its top athletics awards to standout athletes in baseball and golf and a dedicated alumni couple.
Jack Towell of Batavia, Ohio, received the 2023 A.C. Burcky Award as outstanding senior male athlete of the year. He led the baseball team in in batting average, RBI, hits, doubles, homeruns and slugging percentage. Towell is the all-time record holder for times hit by a pitch, with at least 42.
He emerged as the unquestioned leader of the baseball team on and off the field and was always willing to go the extra mile including carrying equipment, doing laundry, preparing the field on game day, and meeting with recruits and their families during campus visits.
Towell's achievements in the classroom were outstanding, and he was named a three-time Academic All-Heartland Collegiate Athletic Conference awardee.
A business administration and marketing double major, he is the son of David Towell and Michelle Kloss Towell.
The A.C. Burcky Award is named for the late professor of physical education and coach who served Bluffton from 1922-68. A.C. Burcky was inducted into the NAIA Baseball Hall of Fame in 1962. In 1970, the A.C. Burcky addition to Founders Hall was dedicated in his honor.
Haley Gill of Indianapolis, Ind., received the 2023 Kathryn E. Little Award as outstanding senior female athlete of the year as a member of the women's golf team. She holds the record for the best 18-hole score in program history as well as the second and third place records for the best 54-hole score. Gill is a four-time selection to the Women's Golf Coaches Association's All-American Scholar Team. She was also named Academic All-Heartland Collegiate Athletic Conference for three years.
"Her leadership is the cornerstone of what the Beaver golf program has become, competing in the top half of the conference on a regular basis and being a part of every record in the program's history," said Adam Craig, head men's and women's golf coach.
Gill took on leadership roles with the Bluffton Bread Company and Harvest Dinner and worked in Marbeck Center, all while maintaining a 3.95 GPA.
A nutrition and dietetics major, Gill is the daughter of Mark and Nicole Gill. She was accepted to the prestigious Indiana University Medical Laboratory Science Program following graduation.
Her award is named for Kathryn Little, who served in Bluffton's health, physical education and recreation department and in athletics from 1958-74. Little was a member of the first class inducted into the Bluffton Athletics Hall of Fame.
Tim '75 and Brenda (High '76) Byers received the Larry W. Jones Memorial Award. The award is presented in recognition of interest, support and significant contributions to Bluffton University Athletics.
Bluffton alumni and former faculty and staff members, Tim and Brenda are each working on 20 years of faithful service at the scorer's table for the Bluffton University men's and women's basketball teams. Tim started with the men's shot clock and Brenda with the women's scorebook. Their work ethic, sense of humor and generosity of time is greatly appreciated.
The award is named after Larry Jones, who graduated from Bluffton University in 1970. He participated in varsity basketball while at Bluffton and later served as an athletic official before being killed in an automobile accident in 1978.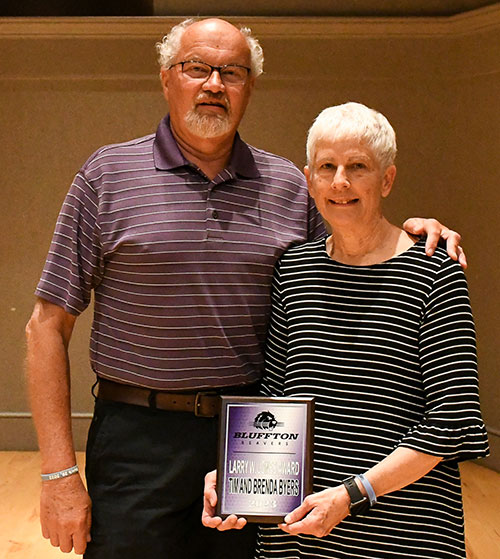 Larry W. Jones Memorial Award
---
Tim and Brenda Byers received were recognized for their support and significant contributions to Bluffton University athletics.