Lifetime of activism
04/11/2023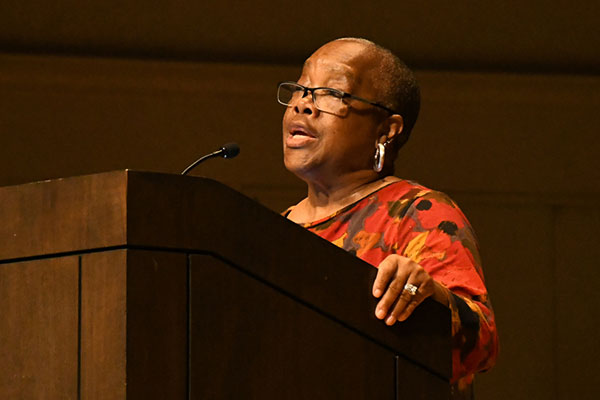 Keeney Peace Lecturer presentation
During Bluffton University's annual Keeney Peace Lecture, Rev. Valerie Bridgman shared, "What is Peace When You Feel Like Fighting: Reflections of a Womanist Biblical Scholar."
During the April 4 presentation, Bridgman looked back on her 50 years of experience as a peace activist. Ordained in 1977, she is the dean and vice president of academic affairs at Methodist Theological School in Ohio (MTSO) where she also serves as an associate professor of homiletics and Hebrew Bible.
At the onset of the presentation, Bridgman explained, "I am living the history I am thinking about."
She shared several stories from her life including the integration of schools during her childhood, leading MTSO during a difficult transition at the seminary, and interacting with young gang members in Austin and Memphis.
Focusing on her experiences in Texas, Bridgman shared about an invitation to join the gang task force for the county, but she quickly realized the task force was more interested in policing young people rather than helping young people. Instead, she got to know about their lives—their names, their families, their struggles.
"What I learned in dealing with gang members was that they were young people who saw no way out of the life they lived," said Bridgman. "Many of them had parents working two or three jobs. I didn't find fault in the parents at all. We as a society were warring against them as opposed to putting underneath them a safety net. How do you work toward peace with gang members when they feel like fighting?"
She continued this informal outreach with young people at the church she attended after moving to Memphis. Bridgman talked of routinely opening her home up to young people, sitting with them at the kitchen table and feeding them spaghetti.
"You can come to my house, but you can't bring a weapon to my house," Bridgman said she explained. "We never knew how many rival gang members we would have in the midst, but we always had rivals in the midst."
Bridgman listened as the young people shared about the struggle to live among violence. Later, she was invited to a men's ministry to share about ministering to gang members but was rebuffed because her tactics would "make them look weak."
"If you think of them as vermin and not as human made in the image of God you will always war against them," Bridgman explained. "You will always treat them as less than human, and you will never be able to provide ministry for them."
She explained that talking and "working on our words" can help people get past their pain, but it only matters if the new-found peace is "bathed in justice for everyone."
Toward the end, she asked the audience filled with college students if they had ever heard the words, "You've changed. What's happened to you?"
Bridgman shared about her experiences of "change" after leaving her hometown for an education, traveling to new places and watching the moving "The Color Purple."
Upon return, she could feel the change in herself.
"Why is it that we hold on to fighting, we hold on to our warring ways?" asked Bridgman.
Maybe, she explained, it's because change pulls us apart from the comfortable.
"To tell the whole truth," said Bridgman, "most of us don't like that space."
In conclusion, she shared some final advice on being a peacemaker.
"What do you do when you feel like fighting? You do the work of making peace internally so that you can become a peacemaker."
During her presentation, Bridgman named previous Keeney Peace Lecturer Vincent Harding, theologian and civil rights activist, as a personal mentor. Bluffton's Keeney Peace Lectureship was established in 1978 by the family of William Sr. and Kathryn Keeney to express appreciation for Bluffton's influence and to strengthen the continuing peace witness among the community.