Oratorical contest
04/10/2023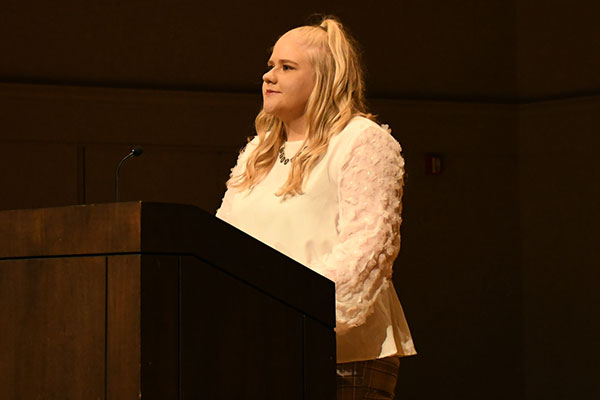 Stephens to compete in bi-national competition
Payton Stephens '22, a writing and communication and media double major from Lebanon, Ohio, was named the winner of Bluffton University's annual C. Henry Smith Peace Oratorical Contest.
Stephens' speech, "Finding Peace in Religious Conversations: The Free Exercise Clause and Public Schools," was delivered to address issues of restraining religious conversations in schools.
She earned $300 and will compete against winning students from other North American Mennonite colleges during the bi-national competition.
Aspyn Rafac '25 of Lakeview, Ohio, came in second with the speech, "Mennonite on Indigenous Soil: Making Peace After Colonialism."
Olivia (Lou) Westcott '23 of Toledo, Ohio, came in third with the speech, "Interpersonal Relationships—It's Complicated: Status and Hierarchy Within our Everyday Lives."
The second and third prize speech winners were awarded $200 and $100 respectively.
The contest is named in honor of C. Henry Smith, an early 20th century Mennonite historian and a professor at Bluffton, as well as at Goshen College.
The C. Henry Smith Peace Oratorical Contest began in in 1975. However, the oratorical tradition has much deeper roots as Bluffton held its first oratorical prize contest in 1905 during commencement week.
The contest is administered by the communication and theatre department at Bluffton University. Bluffton's winners have frequently earned prizes at the intercollegiate level.